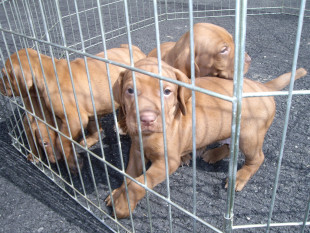 Target: Rick Scott, Governor of Florida
Goal: Do not approve any law that would make so-called "puppy mill bans" illegal.
Cities and towns in Florida may soon be unable to place bans on selling dogs from breeders at pet stores and other locations if some Florida lawmakers have their way. According to the newly proposed laws, no store could be prevented from selling any dog from breeders licensed by the United States Department of Agriculture (USDA). As if this wasn't bad enough, under the Trump Administration, transparency at the USDA has been greatly reduced, making it far more difficult to determine whether or not a breeder has violated animal welfare laws now or in the past.
If passed, the newly proposed law could prevent local authorities in towns or cities across the state from enforcing so-called "puppy mill bans," prohibiting the sale of dogs from breeders and requiring that stores only sell pets from shelters and rescue organizations. These laws are intended to put unscrupulous breeders who mistreat and neglect their animals for profit out of business, while helping to address the issue of overcrowded animal shelters across the state.
At a time when telling 'good' breeders from bad has become increasingly difficult, now is not the time to overturn bans intended to shut down puppy mills. Sign this petition to demand that the governor of Florida reject any law that would put even more dogs' lives at risk.
PETITION LETTER:
Dear Governor Scott,
The state of Florida is considering new legislation that would prevent local ordinances from banning the sale of dogs from any USDA-licensed breeder. At a time when the federal government and the USDA are making it increasingly difficult to determine if breeders are violating animal welfare laws, this is a dangerous proposition that will likely only encourage the sale of dogs from so-called puppy mills.
Florida must not support unethical breeders who confine dogs to tiny cages or deny them their basic needs for affection and socialization, especially when so many dogs and cats at overcrowded animal shelters are in need of good homes. That is why I am urging you to reject any law that would prevent cities or towns from enacting their own bans on selling animals from potential puppy mills.
Sincerely,
[Your Name Here]
Photo Credit: David Fisher