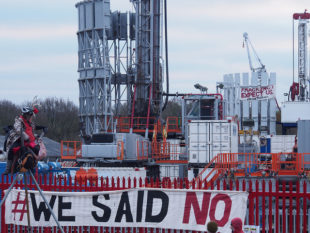 Target: Gérard Larcher, President of the Senate, France
Goal: Thank France for placing a ban on harmful fracking and oil drilling.
France has led the way in the fight for the future of the environment once more by placing a ban on all fracking and oil drilling. By 2040, no drilling will take place in France or its many territories. France has become the first country in the world to enact such a ban.
Fossil fuel extraction will be eliminated in France, helping to keep the planet safe from carbon emissions and greenhouse gases. Both water and air will be cleaner, and habitats for millions of animals will be preserved.
This action will hopefully serve as a catalyst for other countries to follow suit. Sign the petition to thank France for banning fracking. However, also urge the nation to work with other countries and help them achieve the same.
PETITION LETTER:
Dear Monsieur Larcher,
Thank you for enabling France to be the first nation in the world to ban fracking and oil drilling. Thank you for leading the way in the protection of our planet and its future once again. Water will be cleaner, greenhouse gases will be decreased, and habitats will be saved.
Hopefully your actions will help spur other countries to follow suit and do the same. I thank you for bringing an end to fracking in France. I hope that you and your fellow parliament members will urge other nations to follow your lead.
Sincerely,
[Your Name Here]
Photo Credit: Reclaim the Power