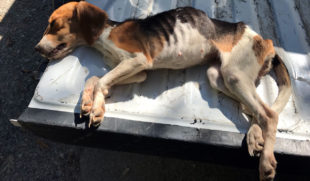 Target: Hon. K. Clay Ratley, County Attorney for Grayson County, Kentucky
Goal: Demand that the man who allegedly starved five puppies and denied his animals desperately needed veterinary care receive the maximum penalty by law.
Five beagle puppies were allegedly starved and denied veterinary care in a shocking case of animal cruelty. Several chickens and other animals were also reportedly found dead on the property. Demand justice for these poor animals.
Grayson County Police arrested 56-year-old Greg Rigdon after Animal Control allegedly found several unidentified animal carcasses, dead chickens, and five starving beagle puppies on his property. Per veterinarians, all the puppies were in distress, and one of the puppies was so emaciated that they thought she would have to be euthanized. The puppy survived, thanks to medication and round the clock care.
The beagle puppies were taken to the county animal shelter for treatment, and the emaciated puppy is recovering in a foster home. Rigdon was charged with animal cruelty and more charges are expected to follow. Sign below and demand that Rigdon receive the maximum penalty by law, if convicted.
PETITION LETTER:
Dear County Attorney Ratley,
Five beagle puppies nearly died when they were allegedly neglected and denied food. The puppies were reportedly in distress, emaciated, and in need of serious veterinary care. We demand justice for these poor animals.
Grayson County police charged Greg Ridgon with animal cruelty after five sick and emaciated beagle puppies were allegedly found on his property. One puppy's ribs reportedly showed through her skin, and she was allegedly so sick that veterinarians did not expect her to survive. In addition to the puppies, police allegedly found dead chickens and multiple unidentified animal carcasses on Ridgon's property. Ridgon is being held at the Grayson County Detention Center, and the investigation is ongoing.
This horrific abuse must be punished. We demand that you seek the maximum penalty in this case.
Sincerely,
[Your Name Here]
Photo Credit: Grayson County Sheriff's Office