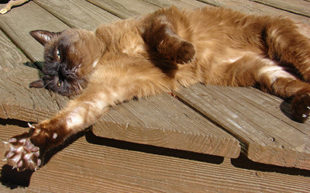 Target: John Hickenlooper, Governor of Colorado
Goal: Support a statewide ban on declawing cats.
The city of Denver may soon join a handful of other U.S. cities that have banned the cruel practice of declawing cats. The procedure, which involves the surgical amputation of the bones, joints and tendons at the end of cats' paws, has been decried by veterinarians and animal rescuers as both medically unnecessary and harmful to cats. While it is hopeful that Denver will enact this ban, we must go a step further and call for the entire state of Colorado to put an end to this torturous form of surgery.
As little as a decade ago, it was relatively common for veterinarians across the United States to recommend declawing when spaying or neutering cats as a way to relieve owners' concerns about their feline companions destroying household furniture. However, this operation is far more invasive than a nail trim, and it can result in lifelong debilitation for cats and unwanted behavior, such as biting or avoiding the litter box. In some cases, cats have been crippled or have died of serious infections as a result of declawing.
There is no reason to subject our four-footed friends to this painful and unnecessary form of surgical alteration. Please sign the petition below to urge the governor of Colorado to support a statewide ban on the practice, with the hopes that this will eventually be adopted nationwide.
PETITION LETTER:
Dear Governor Hickenlooper,
Denver, the largest city in Colorado, may soon enact a ban on the practice of cat declawing. If this ban goes through, the city will join Los Angeles and several others as part of a growing trend against this inhumane procedure that involves the surgical amputation of the last joints on a cat's paws, including the tendons and bones.
Declawing is a barbaric and cruel practice that does far more harm for cats than good. In many cases, cats develop unwanted behaviors afterward and often suffer from chronic lifelong pain. There is no reason to subject our beloved pets to this form of torture. Therefore, I am urging you to help make Colorado the first state to outlaw this medically unnecessary procedure with a statewide ban.
Sincerely,
[Your Name Here]
Photo Credit: La Fattina