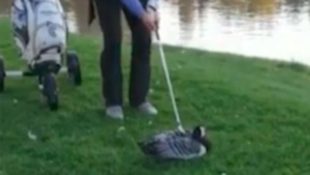 Target: Lasse Aapio, Helsinki Chief of Police, Finland
Goal: Arrest and severely punish a man who allegedly decapitated a goose using a golf club.
A Finnish golfer allegedly killed a goose using his golf club at an upscale golf course near Helsinki as his friends filmed his cruel actions. The unnamed man can be seen in the leaked video swinging his club as the goose sits on a golf tee, decapitating the animal in one swing.
The goose in question appears to have been a barnacle goose, which is a protected species in Finland. After the video was leaked on social media, the country club contacted authorities. The Helsinki police are now launching an investigation against the man, who reportedly has stated that he killed the goose because he or she was injured during one of his earlier drives.
Killing a goose by striking him or her with a golf club while your friends film the act can hardly be considered a compassionate or humane way of ending an animal's suffering. Please add your signature to this petition to urge authorities to press charges and ensure that he is severely punished for this despicable act of cruelty.
PETITION LETTER:
Dear Police Chief Aapio,
A goose was reportedly killed by a golfer who decapitated him while his friends filmed the act. The goose was allegedly injured at the time, but instead of alerting the proper authorities, this man appears to have decided to pose him or her on a tee and have his friends take a video of the goose's final, terror-filled moments.
These cannot be considered the actions of someone trying to compassionately help an injured animal. To make matters worse, barnacle geese are a protected species in Finland and are considered vulnerable. This despicable act of cruelty cannot go unpunished. We, the undersigned, ask that you take this crime seriously and charge the man allegedly responsible for animal cruelty.
Sincerely,
[Your Name Here]