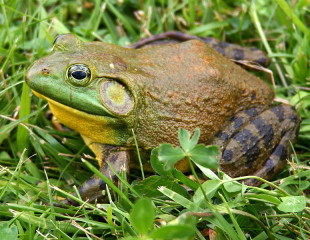 Target: Jim Kurth, Director of the United States Fish and Wildlife Service
Goal: Combat disease responsible for the decline in frog population.
The North American frog population is currently at the mercy of severe Perkinsea infection, a disease with no known cure that causes multiple organ failure in amphibians. At least 11 species of frog have fallen victim to the disease, which spreads very quickly, is resistant to disinfection, and is known to reoccur in many areas. Furthermore, frogs are not typically screened for the disease, making it harder to detect and leading to the deaths of many frogs.
Frogs are an important part of our ecosystem. Not only do they act as pest control by eating flies and mosquitoes, but they are excellent indicators of when something is amiss with the environment. Not only must we aim to find a counter for SPI, we must insist that screenings check for the disease to catch it early, so that the infected frog can be isolated before the disease can spread to others.
These small creatures are much too valuable to allow them to die off. Sign this petition to support further scientific measures against SPI's spread and to stop the deaths of the remaining frog population.
PETITION LETTER:
Dear Director Kurth,
North America's frog population is quickly falling victim to severe Perkinsea infection (PSI), a currently incurable disease that spreads quickly and is not typically screened for. It is responsible for a large quantity of mass mortalities since 1999, and it continues to threaten the population to this day.
Frogs are a vital part of the ecosystem, acting as pest control and as indicators of anything amiss with the environment. They are much too important to allow them to die, and we must be doing more to protect them. Efforts must be made to find a cure for the disease, in addition to screening for it so that any frogs found carrying PSI can be isolated to avoid its spread. We cannot lose such an important factor of our ecosystem.
Sincerely,
[Your Name Here]
Photo Credit: Carl D. Howe