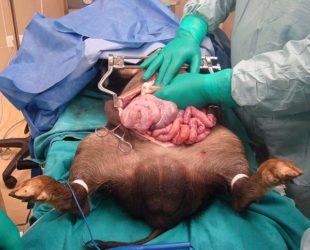 Target: Garnett S. Stokes, Provost and Executive Vice Chancellor for Academic Affairs, University of Missouri-Columbia
Goal: Stop performing fatal operations on pigs for emergency medicine residency training program.
Innocent pigs are currently being rounded up to be sent to the University of Missouri-Columbia (Mizzou) and used for fatal training labs in the school's emergency medicine residency program. Many similar programs in other schools have recently been shut down nationwide at the behest of the non-profit organization Physicians Committee for Responsible Medicine (PCRM), which stands for health and compassion. PCRM appealed to Mizzou, stating, "It is imperative that we shut down this lab before the next session begins… and more pigs die!"
Replacing animal testing and experimentation with other techniques can be advantageous both ethically and technically, according to PCRM. Alternatives are available to operating on pigs, and results from animal research such as this are unreliable when it comes to applying them to humans. Additionally, these innocent animals should be spared from invasive and potentially painful procedures, possible toxic exposures, and captivity. Sign below to demand that the university shut down this cruel lab before the next session begins.
PETITION LETTER:
Dear Provost Stokes,
The use of pigs in the University of Missouri's medical training labs is inhumane and must be stopped. Across the country, similar programs have shut down to end their cruelty to animals. It is vital that pigs not be used for testing and experimentation when non-animal methods are available.
According to the Physicians Committee for Responsible Medicine, there are technical advantages as well as ethical ones to stopping this cruel program. Results gleaned from pigs may not be reliable as applied to humans. Additionally, killing innocent animals for the sake of training people whose oath is to do no harm is unacceptable. I urge you to spare these pigs and to stop this program before the start of the next session.
Sincerely,
[Your Name Here]
Photo Credit: halfalah