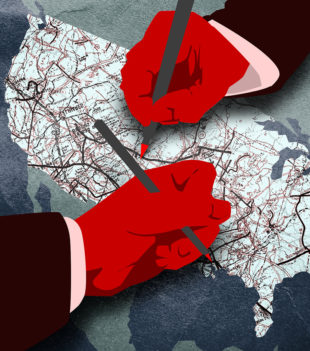 Target: State Senator Mike Folmer, Chair of PA State Government Committee
Goal: Schedule SB 22—which implements an independent citizens commission to create new voting districts—for action.
Current voting districts in the state of Pennsylvania are biased and unbalanced, drawn by politicians hoping to benefit themselves and their party in an act known as gerrymandering. With redistricting approaching, it is vital that the state ensures a fair process that will allow each vote to count as it should. The only way to do this is to appoint an independent citizens commission to direct the new drawing of district lines. According to Fair Districts PA, "States that have put citizen commissions in place have seen improvements in representation, competitiveness, and voter trust."
A bipartisan bill that would create such a commission (SB 22) has been forwarded to the State Government Committee, and now must be scheduled for action. The proposal would create an 11-member, impartial group of qualified citizens, evenly representing both parties as well as minority parties and unaffiliated voters, to be in charge of legislative and congressional redistricting. They would not be politicians or family members of politicians, would follow a strict timetable, allow for public input, be bound by ethics rather than partisanship, and obey procedures of transparency in which all information would be publicly accessible online.
In order to achieve the democratic process our country was meant to have, in which everyone is represented, this change is vital. Sign below to demand the formation of an independent citizens commission in Pennsylvania.
PETITION LETTER:
Dear Senator Folmer,
As redistricting draws near in Pennsylvania, it is essential that gerrymandering be prevented and new districts drawn in a fair, unbiased manner. The only way to ensure this is to appoint an impartial, independent citizens commission to direct the process of drawing district lines.
As a public servant, it is your duty to represent the best interest of the citizens of your state. Pennsylvanians deserve to have fair voting districts, which give them the best chance of representation. SB 22 enables this, as it calls for an independent citizens commission to draw districts instead of incumbent politicians. I urge you, as chair of the State Government Committee, to schedule SB22 for action immediately.
Sincerely,
[Your Name Here]
Photo Credit: Jared Rodriguez