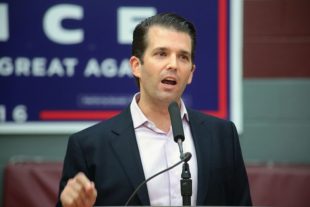 Target: Donald Trump Jr.
Goal: Resign as presidential adviser over meeting with Russian lawyer.
Donald Trump Jr., son and adviser to President Trump, recently released emails that led to a meeting he had with a Russian lawyer during the 2016 presidential campaign. Trump Jr., campaign manager Paul Manafort, and Jared Kushner met with Natalia Veselnitskaya after Trump Jr. was told he would be given incriminating information about Hillary Clinton from the Russian government.
This is the newest in a series of developments that strongly suggest that the Trump campaign not only knew about Russian interference in the 2016 election, but welcomed and participated in that interference. Senator Lindsey Graham said of the emails, "Anytime you're in a campaign and you get an offer from a foreign government to help your campaign, the answer is no."
It's possible that Trump Jr. broke campaign finance laws by taking this meeting; it's also possible he committed treason. Add your name to the petition below to demand that he resign as presidential adviser in light of these developments.
PETITION LETTER:
Dear Mr. Trump,
You recently released emails that detail how you came to meet with Russian lawyer Natalia Veselnitskaya in 2016. You were made aware that if you took the meeting, you could receive incriminating information about Hillary Clinton from the Russian government.
Taking this meeting was a possible violation of campaign finance laws, since opposition research has monetary value, and you accepted that research from a foreign government. In addition, this development sheds more light on how the Trump presidential campaign knew about and collaborated with Russian efforts to interfere in the presidential election. I demand that in light of this serious development, you resign from your White House adviser position.
Sincerely,
[Your Name Here]
Photo credit: Gage Skidmore