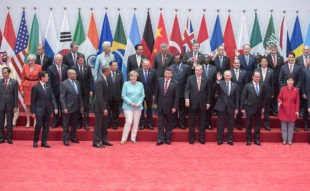 Target: Xi Jinping, President of China
Goal: Continue global effort to address climate change through adoption of climate action plan at the G20 summit.
The United States signaled its retreat from climate action in withdrawing from the Paris Climate Agreement. Prominent G20 member countries such as Germany have moved to fill the leadership void by crafting a climate action plan to build on the foundation established in Paris. This presents an opportunity to demonstrate that much of the industrialized world remains committed to addressing climate change.
President Trump has taken decisive action to weaken America's position on climate change in addition to leaving the Paris Accord. This includes tapping industry-friendly individuals to lead departments overseeing the environment, energy and public lands. A primary example is Environmental Protection Agency administrator Scott Pruitt, who filed several lawsuits on behalf of energy companies aimed at weakening environmental regulations, while serving as Attorney General for the state of Oklahoma.
China occupies a delicate position as the world's largest emitter which is heavily dependent on its economic relationship with the United States. It has made significant commitments to reduce greenhouse emissions, including massive investments in renewable energy infrastructure and a pledge to not build any additional coal-fired power plants beyond 2019. However, concern of economic consequences levied by the United States in the form of increased taxes on exports, has made it far from certain that it will sign on to the G20 climate action plan.
We cannot allow the United States to bully other nations away from the climate table. Please sign the below petition calling on China to continue standing its ground in leading the fight against climate change.
PETITION LETTER:
Dear President Xi,
I am writing to urge that you sign onto the G20 Action Plan on Climate and Energy for Growth. The United States has already retreated from its commitment to Paris Climate Agreement, as the world's largest emitter, your absence from the action plan would be a crushing blow to the global climate movement.
Chinese citizens have forcefully voiced their concerns regarding worsening climate impacts such as air and water pollution. Please continue demonstrating your commitment to preserving their quality of life by agreeing to adopt the G20 action plan.
Sincerely,
[Your Name Here]
Photo Credit: President of Russia