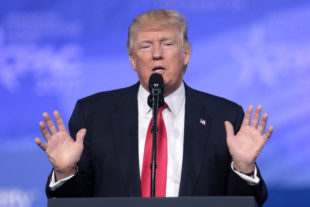 Target: Donald Trump
Goal: Apologize for tweet advocating violence against journalists.
The president has shared a video portraying violence against journalists. On both his personal Twitter account and the official POTUS account, Donald Trump tweeted a video of a WWE fight he once participated in, with the CNN logo imposed over his opponent's face.
Trump has repeatedly attacked media outlets over the course of his candidacy and presidency, and he often refers to CNN as a "fake" news organization. His comments have spurred attacks on reporters. White House Press Secretary Sean Spicer has stopped holding daily briefings and often prohibits media outlets from recording briefings.
Trump has been comfortable with advocating violence since the beginning of his presidential campaign, and he does not appear to understand or care about the dangers of trying to discredit journalists, but to share a video like this from the official POTUS Twitter account is disgusting. Add your name to the petition below to demand that Trump apologize for this incredibly disrespectful behavior.
PETITION LETTER:
Dear President Trump,
You recently shared a video that advocates violence against journalists, further proving that you have no respect for the office you hold, the country you serve, or the vital role of the press in a democracy. Your attempts to discredit any media outlet that criticizes you are not only immature but incredibly dangerous, and your comments have resulted in attacks on reporters.
Journalists do not work for you or your administration; they are under no obligation to portray you in a positive light, and they have a duty to report the truth to the American people. I demand that you apologize for sharing this disrespectful and dangerous video and stop trying to discredit media outlets.
Sincerely,
[Your Name Here]
Photo credit: Gage Skidmore