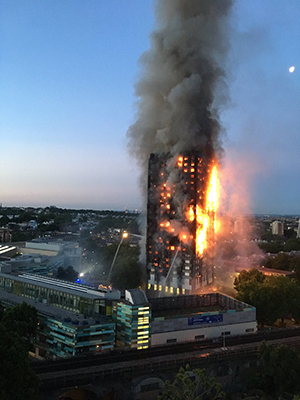 Target: Gavin Barwell, Downing Street Chief of Staff
Goal: Demand a public apology for not responding to safety reports and call for stricter regulations to prevent future fires in tower blocks.
Grenfell Tower, a high-rise building in the Kensington district of London, was completely engulfed in flames while residents remained trapped inside. While the cause of the fire is under investigation, many concerned Londoners, including survivors of the tower inferno, are furious, claiming that years of complaints regarding the lack of basic safety features such as sprinklers and alleged faulty wiring "fell on deaf ears." While the firm that owned the tower must be held accountable, there is evidence that various housing ministers sat on reports indicating that up to 4,000 London towers — including the one that was destroyed — were potentially unsafe.
One former housing minister criticized for his alleged inaction is Gavin Barwell, Theresa May's new Chief of Staff. Barwell had inherited the reports from his predecessors which indicated that for at least four years, significant fire hazards were known in a large number of London tower blocks, and yet it is unclear if any action was ever taken to address these issues.
While we may never be able to say if timely enforcement of existing rules or a call for stricter regulations may have prevented the Grenfell Tower fire, it is likely that more lives could have been spared had safety measures been in place. Sign this petition to demand that Gavin Barwell apologize for not following through and push for stricter safety regulations for existing tower blocks.
PETITION LETTER:
Dear Mr. Barwell,
Following the tragic incident at Grenfell Tower, it is clear that the issue of fire safety regulations in block housing must be addressed. While you were housing minister, you had evidence from previous ministers which suggested that up to 4,000 tower blocks in London had potential fire safety hazards. I am deeply concerned that these reports were not acted on during your tenure and that stricter enforcement was not called for.
I demand that you apologize for not doing more to correct hazards such as the ones known in Grenfell Tower and similar buildings, and urge you to push your successors to do more to enforce safety measures so future tragedies may be prevented.
Sincerely,
[Your Name Here]
Photo Credit: Natalie Oxford