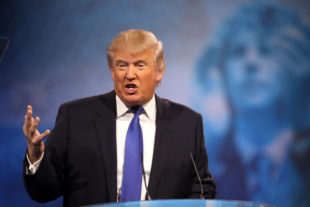 Target: Donald Trump, President of the United States
Goal: Stop President Trump from pulling out of Paris climate agreement.
President Trump has decided to withdraw the United States from the Paris climate deal, thanks to 22 letters from Republican senators encouraging him to do so. The agreement, put in place in 2015 by the Obama Administration, was set up to help reduce carbon emissions worldwide, and the United States' joining of the agreement was considered one of our greatest accomplishments.
This decision may be one that we saw coming but that does not make it any less dangerous. This is yet another endeavor by Trump to destroy what Obama created over his eight years in office. Trump has gone on record calling the Paris agreement a hoax and has made his refusal to believe the truth about climate change very well-known. Trump's decision will undo much of the progress we have made regarding climate over the years.
We cannot allow this. We must stop Trump from going through with this withdrawal, not just for the sake of our stance on climate change with the rest of the world, but to protect our environment when it needs protecting the most. Sign this petition to demand that President Trump halt his withdrawal of the United States from the agreement.
PETITION LETTER:
Dear President Trump,
Your decision to pull out of the Paris climate agreement is unacceptable. This agreement was put in place to protect our clean air laws and to keep the planet safe from excessive carbon emissions. By withdrawing the United States from this agreement, you are not only sending the wrong message to the rest of the world regarding our stance on climate, but you are putting the entire planet at risk.
Climate change is very real, backed up by firm scientific evidence. The Paris climate agreement is extremely important in helping to put a stop to climate change and protecting this planet from burnout due to excessive global warming and chemical intoxication. You must retract your decision to withdraw the United States from this agreement. Do not isolate us from something so vital to our well-being.
Sincerely,
[Your Name Here]
Photo Credit: Gage Skidmore