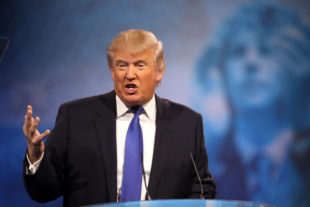 Target: Nancy Pelosi, United States Representative
Goal: Reject President Trump's proposed budget plan.
President Trump's budget plan bolsters the military and border security at the expense of the everyday people. Millions of children, women, senior citizens, and poverty-stricken and disabled people will suffer tremendously should this budget pass. Some may even die without the aid of the programs whose funding Trump intends to destroy.
This is not the first time Trump or his administration has attacked programs such as Medicaid and the SNAP food stamps program, and this is the most devastating attempt yet. This new budget plan heavily invests in already well-funded departments at the expense of the sick and the poor. In addition, it would give conservative governors permission to impose harsh regulations on the people who need governmental aid to survive.
We do not need showy military strength and border patrol — we need affordable health care, food, and housing for those in need. This budget plan is nothing but selfish and cruel, and we cannot allow it to even have the hope of passing. Sign this petition to demand Congress reject Trump's budget plan.
PETITION LETTER:
Dear Representative Pelosi,
President Trump's budget plan will all but destroy programs designed to help women, children, seniors, the disabled, and poor people in order to bolster the military and border security. This budget has been termed "cruel and heartless" by many, and will put millions of lives in jeopardy in order to funnel money into over-inflated military and border security budgets. Too many people rely on programs such as Medicaid and SNAP food stamps, and greater military might is not what will ensure the prosperity of the American people.
Trump's proposed budget benefits nobody but himself and other rich, white men. He is putting his own personal need for security and showing off America's might before the needs of the everyday people, and his budget must not be allowed to pass. Please reject this budget and encourage the rest of Congress to do the same. Too many people's lives are at stake to allow this selfish budget even the smallest chance of passing.
Sincerely,
[Your Name Here]
Photo Credit: Gage Skidmore