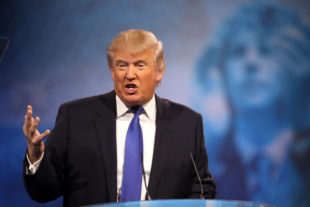 Target: President Donald Trump
Goal: Protect Medicaid funding from devastating budget cuts.
President Trump's new budget plan will include $800 billion in cuts to Medicaid, as confirmed by a senior official of the Trump administration. In conjunction with the GOP's plans to dismantle the Affordable Care Act, the burden of making up the difference financially will fall entirely on each individual state. Since the states do not have the resources to do this, it will likely result in millions of Americans losing health care.
The bill to dismantle the ACA not only reduces Medicaid funding overall, but also removes money given to states to cover costs of expanding their Medicaid programs, and prevents any state that has not expanded to do so. With this massive reduction in funding, the most likely outcome is that Medicaid will have to reduce eligibility, curtail benefits, and cut provider payments. Over 70 million low-income Americans — including children and families, disabled, and the elderly — are currently covered by Medicaid and are at risk of no longer being able to afford necessary care. Demand that President Trump revise his budget plan and save Medicaid funding.
PETITION LETTER:
Dear Mr. President,
The drastic cuts to Medicaid funding in your budget plan will be extremely harmful to millions of Americans. Low-income families, as well as the elderly and disabled, depend on Medicaid for necessary health care, and this budget cut could take that from them.
With these huge reductions, and the burden of making up for them falling to the states that cannot afford it, benefits, provider payments, and eligibility for Medicaid may all have to be reduced as well. This could cause millions of Americans to be unable to afford the care they need. I urge you not to cut $800 billion in Medicaid funding.
Sincerely,
[Your Name Here]
Photo Credit: Gage Skidmore