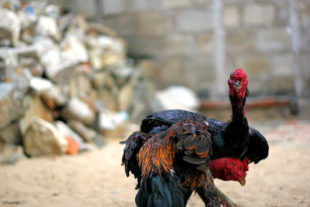 Target: Charlie Beck, Chief of the Los Angeles Police Department
Goal: Arrest those responsible for the cruel deaths of thousands of chickens.
7,000 birds were seized near Los Angeles in the biggest cockfighting bust of all time. There was no way to save any of them; birds trained to fight will continue to be aggressive and there are no shelters set up to rehabilitate them. All of the chickens were euthanized, after a cruel life of steroid injections and vicious fighting. Most of the people that go to these fights won't get caught, and will keep torturing animals for their own sick amusement and profit from betting on the winners.
Cockfighting is illegal in all 50 states, and usually goes along with illegal gambling. Those aren't the only crimes taking place at cockfights, though. Illicit drugs are often sold there, and homicide is not unheard of. Usually the birds do not have to die in order for a winner to be declared, but the injuries are often fatal nonetheless. Punctured lungs, pierced eyes and broken bones are some of the more common injuries suffered. This kind of large-scale operation would not have popped up overnight and the fact that it was allowed to get to this point is appalling in and of itself. Sign this petition to ensure the people responsible for this heinous crime do not go unpunished.
PETITION LETTER:
Dear Mr. Beck
Cockfighting is a serious crime, even though the victims are animals. Every state recognizes it as such, and the recent cockfighting bust near Los Angeles involved a disturbingly large group of animals. Every last one of them had to be killed since there was no way to rehabilitate them or find homes for them. In a cockfight, the birds will have razors attached to their legs and it's not uncommon for the surviving birds to die from their injuries later on. So far no one has been arrested in this case.
Cracking down on cockfighting would be beneficial to the police force, since cockfights are known for attracting criminal activity of other kinds as well. Illegal gambling, drug trade and gang activity can all be witnessed in addition to the actual fight. Please take action to punish these people and make an example out of them They're directly responsible for the cruel deaths of so many animals, we must make sure that nothing like this ever happens again.
Sincerely,
[Your Name Here]
Photo Credit: Nguyen Thanh Long