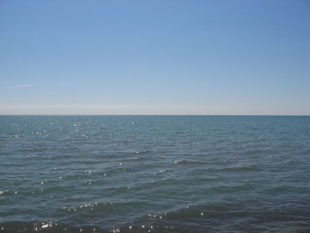 Target: Scott Pruitt, Administrator of the EPA
Goal: Don't cut programs that clean up dangerous pollution in the Great Lakes.
Donald Trump has already made his disregard for the environment abundantly clear by slashing budgets for the EPA and the National Park Service. His newest budget proposal includes entirely eliminating the budget for the Nonpoint Source Grant program, which helps keep the Great Lakes clean and free of non-traditional pollution. "Nonpoint Source" means simply that the pollution does not originate from one single point, but is part of a more complex network of industrialization leading to pollution.
The Nonpoint Source Grant program helps states financially deal with pollution not covered under the Clean Water Act, like phosphorus which feeds algae that then absorb oxygen in the water, leading to huge amounts of dead fish. In addition, the algae blooms can even make the lakes unsafe for human recreation, causing skin irritation on contact. The bacteria that flourish in polluted lakes release neurotoxins and are known to be dangerous to humans, which is why cleaning up our lakes should be a priority for the country, not one of the first things cut to save money. The Great Lakes are the largest freshwater system on Earth and they provide millions of families with their drinking water, and should be protected. Sign this petition to keep our lakes clean and safe for everyone.
PETITION LETTER:
Dear Mr. Pruitt,
Donald Trump is proposing the complete elimination of Nonpoint Source Grants, used to help states fund their pollution cleanup efforts. Nonpoint Source Grants were created because the Clean Water Act can not cover everything, and there were some large gaps in its protection. One such gap is the frequent algae blooms Lake Erie experiences due to industrial runoff, which kill fish and endanger swimmers year after year. The 165 million dollars required for Nonpoint Source Grants is just a drop in the bucket when compared to the 597 billion dollars allocated to the military budget.
Tourists flock from all over the country to see the Great Lakes in person, and they bring a lot of revenue into the area. One third of American boaters live in the region, not to mention the marinas and resorts that wouldn't exist without the Great Lakes. For these reasons, protecting the lakes is not only an environmental concern, but also an economical one. Please work to keep our lakes safe for recreation and drinking water.
Sincerely,
[Your Name Here]
Photo Credit: Ryan Hodnett