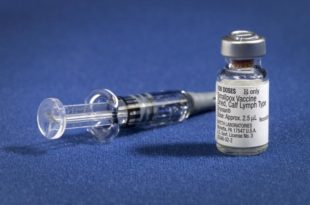 Target: Lori Swanson, Minnesota Attorney General
Goal: Punish the people spreading misinformation about vaccines, leading directly to the suffering of children.
Doubt about vaccines is nothing new and we're finally beginning to see some consequences for the misinformation spread far too often. The Somali community in Minnesota has been particularly affected. The parents believed there to be a disproportionately large amount of children with autism in their communities, and believed the rumors about vaccines leading to autism in children, though this claim has no evidence to back it up. The anti-vaccine groups responsible for spreading these messages need to be punished for the diseases they're bringing back.
Measles has technically been eliminated in the U.S. for years, but it still exists due to international travel. It's very highly contagious and experts say that if an individual has it and the people around them are unvaccinated, 90% of those people will also become infected. There are already 48 measles patients in Minnesota, most of them children, and there will probably be many more. Children should not be dying from easily preventable diseases. Sign this petition to urge Minnesota's government to take action against those spreading anti-vaccine propaganda.
PETITION LETTER:
Dear Ms. Swanson,
Anti-vaccine propaganda has directly led to the hospitalization of dozens of children in Minnesota, most of them Somali immigrants. A large portion of them have gone unvaccinated because their parents have concerns about the safety of the vaccines, believing they cause autism. There's no evidence for this, yet certain anti-vaccination propaganda groups keep spreading this misinformation and immigrants are particularly susceptible. Some may not speak fluent English or they could simply lack the community support that normalizes vaccines and herd immunity.
It's a common misconception nowadays that because so many of the diseases we vaccinate against are now rare, that they don't need to be vaccinated against. This couldn't be further from the truth, of course. The diseases, such as the measles, are rare here only because so many people are vaccinated now and as more and more parents opt out of immunization for their children, the herd immunity will disappear. This is bad news for any people who aren't able to receive the vaccines due to legitimate reasons, like compromised immune systems. The fear that children will develop autism as a result of vaccines is misguided. It can be traced back to certain groups spouting the ideology of Andrew Wakefield, a doctor who has been widely discredited for his faulty ideas about vaccines. Please punish people spreading anti-vaccine propaganda. It's dangerous.
Sincerely,
[Your Name Here]
Photo Credit: James Gathany