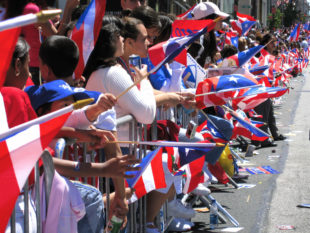 Target: Donald Trump, President of the United States
Goal: Tell President Trump that Puerto Ricans are tax-paying U.S. citizens deserving of federal aid.
As legislators work to avoid a government shutdown, President Trump is ridiculing Democrats in Congress for demanding that funds be used to help Puerto Rico cover its Medicaid payments. His tweets on the matter imply that it is "sad" that Democrats want to use taxpayer dollars to aid some irresponsible foreign country, but this could not be further from the truth. Puerto Rico is a U.S. unincorporated territory and Puerto Ricans are U.S. citizens who pay taxes like any other. The island is currently mired in a debt crisis caused in major part by the island's territorial status, and President Trump's characterization of Puerto Ricans as undeserving of aid is offensive and unjust.
Tax breaks for corporations drove businesses to invest in the island during the late 20th century, but in 2006, Congress let them expire, leading to a recession that saw a large exodus of business and citizens from the island. Because the federal government also provided breaks for investors to lend money to Puerto Rico, the government there was left with large debts they were unable to pay due to the reduced population and economic output. Since then, wealthy investors have demanded payment of debts over preservation of public services and left Puerto Ricans desperately in need of financial aid to ensure the basic health and security of the island.
Puerto Ricans are U.S. citizens who pay taxes, contribute to the economy, make our culture more diverse and vibrant, and join the military at high rates. The Trump administration has made it clear that it is perfectly agreeable to aid huge corporations and campaign donors with U.S. funds, but unwilling to use taxpayer money where it would aid taxpayers most. Tell President Trump that his job is to represent and support the lives of all Americans, including Puerto Ricans, and that his ignorance on this issue will not be tolerated.
PETITION LETTER:
Dear President Trump,
As the federal government nears a shutdown, you have taken it upon yourself to ridicule the Democratic politicians who are trying to help Puerto Rico cover its Medicaid system. Your comments on Twitter indicated that you do not understand that Puerto Rico is a part of the United States, and one treated quite poorly by the U.S. government. Puerto Ricans are tax-paying citizens of the U.S., and the island's population numbers over 3.5 million people. This does not include the millions with Puerto Rican heritage living in the continental U.S., and are not allowed the basic right to vote in national elections. Puerto Ricans are as deserving of federal aid as much as any other state or territory of the U.S., and treating them as irresponsible foreigners does them and yourself a great disservice.
Since the U.S. government removed tax breaks for corporations in Puerto Rico, the island has been left with a smaller economy and less people to pay back $72 billion in debts also encouraged by the federal government. Wealthy investors are now demanding payment of the debt be prioritized ahead of providing basic public services like healthcare and education to Puerto Ricans, who find themselves being treated as second-class citizens yet again. I urge you to recognize the right Puerto Ricans have to federal aid while they deal with their difficult financial situation, and use your position to advance the rights of Puerto Ricans, rather than mock these American citizens in a time of need.
Sincerely,
[Your Name Here]
Photo Credit: Boss Tweed