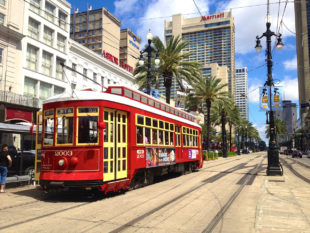 Target: Mitch Landrieu, Mayor of New Orleans
Goal: Praise New Orleans' decision to take down Confederate statues.
Workers in New Orleans have started to take down statues honoring the Confederacy thanks to the mayor's decision that they must no longer be kept public. The subject has been wildly debated for years; some people have protested the removal due to the statues being part of the city's history, but others felt that because times have changed and that New Orleans is a primarily African-American city, the statues were completely inappropriate.
It is important to acknowledge the darker points in history but only to recognize that they existed and that they are the reason things must change. The statues did not stand as a means of teaching that slavery was wrong and needed to end but to celebrate the Confederacy's normalization of slavery and racism. There is no reason that in this day and age, monuments celebrating such backward and cruel institutions should remain standing.
This decision to take down the monuments is a huge step forward for acceptance and tolerance, especially following the rash of racially-motivated hate crimes occurring in the United States for the past several years. Sign this petition to thank the mayor for finally making the right decision.
PETITION LETTER:
Dear Mayor Landrieu,
Thank you for deciding to take down the Confederate statues in your city. Such monuments are relics of a time where racism and slavery were normalized and that time has long passed. Thank you for recognizing that even though we must acknowledge our history, we cannot allow shrines to the atrocities of the past to stand as proud symbols, especially in a primarily African-American city.
Your decision is especially welcome in the wake of all the racially-motivated hate crimes and murders that occurred within the past several years and even more so in the midst of the current political climate threatening America's diversity. We need every reminder that we can get of how far we have come since the days of slavery and normalized racism, and also we need to keep going further in our drive to normalize equality and acceptance. History is important but more important is that we learn from it.
Thank you for removing the monuments to one of the darkest times in American history.
Sincerely,
[Your Name Here]
Photo Credit: Didier Moïse