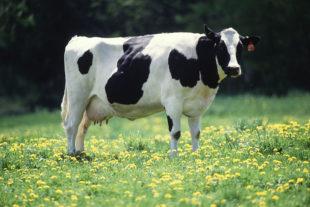 Target: Peter Juk, Assistant Deputy Attorney General, British Colombia, Canada
Goal: Punish men found guilty of kicking, punching, and beating cows at a dairy farm.
Three employees at one of Canada's largest dairy farms have been convicted of animal cruelty for their role in widespread abuse toward cattle. Travis Keefer, Jamie Visser, and Chris Vandeven, all former employees of Chilliwack Cattle Sales, were caught on camera kicking, punching, and beating cows with rakes, canes, and other implements. In an undercover investigation by rights group Mercy for Animals, the men were also seen tying chains around the necks of sick and injured animals and using tractors to lift and drag them to their destinations.
Chilliwack Cattle Sales has been fined nearly $350,000. In total, twenty animal cruelty charges were laid against workers. Three more of the company's employees and one of its owners are still awaiting trial for animal cruelty charges.
This investigation has prompted the B.C. government to implement stronger animal welfare laws. The new Dairy Code of Practice outlines minimum animal welfare guidelines for the treatment of cows in dairy farms. These new guidelines could fully eliminate abuses such as lame or soiled cattle being left to languish, cows' tails being ripped off in machinery, branding or de-horning of calves without pain medication, and numerous other abuses.
Animal abuse in the factory farming industry is rampant. In order to ensure that it stops, we must make examples out of those who commit it. Sign the petition below to ask the prosecutor to seek the maximum possible penalties for these men and anyone else found guilty in this case.
PETITION LETTER:
Dear Mr. Juk,
Three men were recently convicted of animal cruelty in connection with an undercover investigation at a dairy farm that revealed widespread abuse. The men were caught on video kicking, punching, and beating cows with canes and rakes. They were also dragging sick or injured animals with chains attached to their necks. Not only were these three men found guilty, four more men, including one of the owners, are also facing charges.
In order to stop the widespread abuse in the factory farming industry, we must send a strong message to potential abusers by punishing these men to the fullest extent possible. We, the undersigned, ask you to seek jail time for these men as well as a lifetime ban on owning or working with animals.
Sincerely,
[Your Name Here]
Photo credit: Kieth Weller