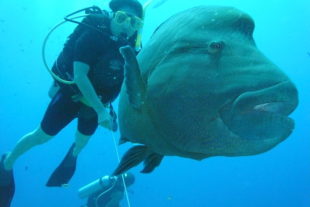 Target: Regina Paz L. Lopez, Phillipines' Secretary of the Department of Environment and Natural Resources
Goal: Stop the Philippines' trade of the endangered humphead wrasse fish.
The humphead wrasse is a huge fish native to the coral reefs in the Indo-Pacific region. Unfortunately, it's also considered a delicacy in Southeast Asia. As if loss of reef habitat isn't enough, this endangered fish is constantly threatened by poachers and their destructive fishing techniques. We must act now to protect this unique fish species.
Also called the Napoleon fish, this species is vital to reef health because they eat predatory starfish. Another notable trait of the humphead wrasse is their protogynous hermaphroditism. Some female fish will become male at around nine years old. They can grow to six feet long and over 400 pounds, and while they are a long-lived species, they don't breed very often so it will take years for the population to rebound.
The humphead wrasse is one of the most expensive fish around and is eaten by both tourists and locals. The Philippines is one of the main exporters of this rare fish, a terrible practice which needs to be stopped immediately. The humphead wrasse is considered an umbrella species, meaning that many other species depend on them and will be positively affected if poaching ends. Not much is certain about these fish since large-scale studies are difficult to conduct with a small-scale population. The hope is that we can learn more about them as their numbers rebound. Demand that the trade of these beautiful, endangered fish be outlawed immediately.
PETITION LETTER:
Dear Secretary Lopez,
The humphead wrasse is a very important fish species in the coral reefs of the Indo-Pacific region; other species depend on it and thrive when it thrives. It is not thriving now. Due to over-hunting in the fish's habitat, population numbers are dwindling. The coral reefs are already being threatened by ocean acidification, so the last thing any species of fish there needs is to be hunted to near extinction. The humphead wrasse may fetch a high price from consumers, but the world will pay a higher price when we lose them.
Fishers prefer to catch these fish when they're young because that's what will fetch the highest profits. This doesn't allow them to begin breeding since it takes years for them to reach sexual maturity. The fishing practices are also harmful to the environment, as it's common to use cyanide to poison the fish. We ask that you take action to put an end to the fishing of the humphead wrasse for food.
Sincerely,
[Your Name Here]
Photo Credit: Lux Tonnerre