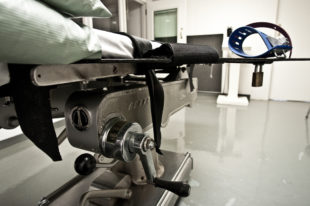 Target: Asa Hutchinson, Governor of Arkansas
Goal: Prevent the state from rushing to execute seven prisoners using uncertain means.
The state of Arkansas is racing to execute seven prisoners on death row before its supply of a required sedative expires, creating a situation rife with controversy and human rights abuse. No state has ever executed so many people in so little time, and to make matters worse, the sedative they are so desperate to use, midazolam, has proven inconsistent in its results. In 2014, three inmates faced brutal deaths at the hands of midazolam, gasping and struggling violently while the drugs took as much as two hours to work. Despite these horrific events, Governor Asa Hutchinson is moving ahead with the executions, in a move that will not only put seven to death, but also psychologically scar prison staff and make a mockery of our nation's sacred eighth amendment.
Around the world, capital punishment has increasingly been shunned as a cruel and inhumane means of criminal justice, and pressure has been on international drug companies to stop producing drugs for use in executions. As it becomes harder and harder for states to find the drugs necessary for performing lethal injection, new drugs with unproven results like midazolam are now used in lethal injections. Despite numerous botched executions, midazolam continues to be used to vacate death row, with the U.S. Supreme Court refusing to rule the drug's use unconstitutional.
Gruesome executions have a horrific effect on prisoners, but prison staff can also be traumatized by the event, leaving them to suffer from depression and post-traumatic stress disorder. Whether or not one believes in the death penalty, the circumstances surrounding these executions are undoubtedly cruel and unusual given the brazen disregard for the human dignity of both the inmates and prison staff. Governor Hutchinson must see how antithetical his actions are to the founding principles of this country, and know that his actions have real, life-threatening consequences for many involved.
PETITION LETTER:
Dear Governor Hutchinson,
I write today to voice my opposition to your plan to execute seven prisoners on death row over eleven days before the supply of midazolam expires. This sedative has proven ineffective at executing prisoners, after several gruesome executions in 2014 left prisoners gasping for air and struggling violently in the wake of midazolam's failure. Its use threatens the dignity of not only inmates, but also prison staff, who may blame themselves for the drug's inefficacy and develop depression or post-traumatic stress disorder. Rushing these executions does not provide the time necessary for a proper legal response from the inmates and places even more stress on prison staff, raising the risk of a mishandled execution.
As standard drugs for lethal injection become less available in the face of international opposition to capital punishment, the result should not be a reliance on unreliable means with proven dangerous consequences. In placing their deaths on a fast-track, you are disregarding the evidence regarding the efficacy of the sedative, and are placing more lives at risk than you know. I urge you to consider if these prisoners' deaths are truly worth the incredible threat they pose to prison staff and the due process of our nation's criminal justice system and to stay their executions before the damage to our nation's psyche is done.
Sincerely,
[Your Name Here]
Photo Credit: Josh Rushing