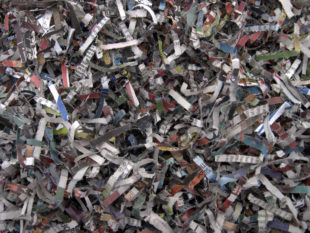 Target: Scott Pruitt, EPA Administrator
Goal: Mandate paper recycling for all businesses.
A full third of the paper used in the United States annually goes to waste, even though it's easily recyclable. Much more paper gets used by businesses than by private consumers, so they need to be forced to recycle their papers instead of letting them be sent to landfills. Paper processing typically involves water as well, so this measure would not only save trees and reduce waste, but also help us to conserve this precious resource. Businesses just throw away tons of paper every year rather than pay for a recycling service.
A lot of businesses are still paper based in order to protect customer privacy. Digital information is more easily compromised through hacking, and keeping it secure is costly. Unfortunately, many companies value nothing more than the almighty dollar. If it's cheaper for them to put all waste in the same dumpsters, they will. These corrupt business owners need to be penalized, or else they'll keep doing what they've always done. Profits should never come before the well-being of the environment, but all too often in our capitalist society, they do just that. Forests need our help now, they can't wait for CEO's to develop consciences and stop polluting just to save money. Sign this petition to demand that businesses be forced to recycle their paper waste.
PETITION LETTER:
Dear Mr. Pruitt,
Paper is wasted at an alarming rate. Businesses contribute far more paper waste than any individual ever could, yet they are some of the least inclined to recycle because it would eat into their profits. Paper can be reused again and again, yet a full third of the paper used annually ends up in landfills instead of being reused. This is wasteful and unnecessary, and contributes directly to deforestation. While trees are renewable, new growth takes years and cutting down older trees destroys the homes of defenseless animals. In the long run, it's better for everyone if we get as much use as we can out of the paper that's already been made, before we start running low on mature trees and face rising paper costs, affecting everything from textbooks to product invoices.
When faced with a choice, businesses will almost always go for the cheapest option. It's the nature of capitalism. If companies had to recycle, or else face heavy fines, they would choose the cheaper option and help both the environment and their public relations. The revenue gained from the few that would choose not to recycle could be put towards educating the public about the importance of recycling. Please mandate paper recycling for all businesses, to end this needless and harmful waste.
Sincerely,
[Your Name Here]
Photo Credit: Judith E. Bell