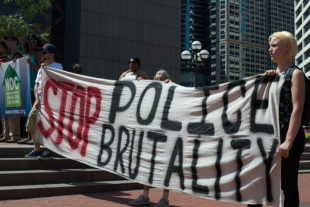 Target: Donald Oakes, West Memphis, Arkansas Chief of Police
Goal: Fire and punish officers who allegedly beat a man, then left him at the scene until someone called paramedics.
A young African American man reportedly required emergency medical services after police pulled him over and violently beat him, then left him at the scene. The victim, Caeser Montana, told news outlets that his hands were cuffed behind his back when police began hitting and kicking him. He tried burying his face in the mud in an attempt to shield it from the continuous blows, and that's when, he says, an officer grabbed him by the hair and pulled his face up before kicking him in the face. The vehicle was pulled over when police reportedly spotted a passenger with warrants in the vehicle with Caeser. Due to a history of distrust with the West Memphis police department, Caeser says he turned to run. He didn't have any warrants and wasn't even taken to jail. Instead, he was allegedly beaten mercilessly and left there to suffer until someone called paramedics, who had to take him to the emergency room due to the injuries he allegedly sustained during the violent encounter with police. While at the hospital, the victim says doctors and nurses told him that he had been assaulted by police and they advised him to get a lawyer.
The victim says that the memories of the violent beating continue to haunt him, even as his physical wounds are starting to heal. So far, the police officers haven't been held accountable for their allegedly violent, disgusting behavior. Cases of police brutality rarely end with justice. It's common for officers to simply be transferred to a different department, but rarely punished or fired. Please sign this petition to demand that the officers involved in this horrific violent attack are fired indefinitely and punished.
PETITION LETTER:
Dear Chief Oakes,
A young African American man was reportedly handcuffed, then punched and kicked by police who didn't even take the victim to jail afterward. Instead, they left the innocent man lying there to suffer from the horrific injuries. When someone finally took notice and called paramedics, the victim had to be taken for emergency medical care.
We are appalled that police officers would behave in such deplorable, violent ways. It's clear that they've been treated as if the law doesn't apply to them. We, the undersigned, demand that these officers, if guilty, be severely punished and fired and barred from ever working in positions of authority again.
Sincerely,
[Your Name Here]
Photo credit: Fibonacci Blue