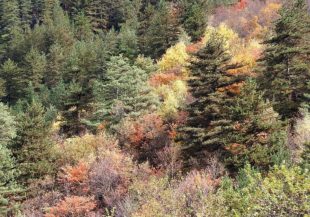 Target: Chen Jining, People's Republic of China's Minister of Environmental Protection
Goal: Urge China's environmental ministry to immediately halt the collection of trees in Zhejiang province, and work to study and restore the population of Baishan firs — arguably the most endangered conifer in the world.
The Baishan fir, or Baishanzu fir (Abies beshanzuensis), is an exceptionally rare coniferous tree native to a lone mountain, Baishanzu Shan (Mt. Baishan), in the Fengyangshan – Baishanzu National Nature Reserve, located in the southwest of China's coastal Zhejiang province.
The summit of Baishanzu Shan is the only known place where the Baishan fir, first discovered in 1963, survives. When it was first identified, only seven individual Baishan firs stood on the mountain, and by 1987, only three were left in the wild because of an attempt at transplantation. (Some have reported that five remain to this day.) This makes it critically endangered by IUCN standards, and the Baishan fir is considered the rarest and most endangered coniferous tree on Earth.
While China has banned commercial logging in many areas, and has stated that it is committed to halting deforestation, clear-cutting was still being practiced in Zhejiang province as early as 2014. Climate change also poses a serious threat to the fragile tree, which, due to its particular climatic needs can only grow in a small window of altitudes.
China's Ministry of Environmental Protection can and must work to study this tree, possibly to breed a more climate-resilient strain in a nursery. It must also insist that logging cease in Zhejiang province, so that the tree can be protected in any potential location that it may reside. This may be the only way that A. beshanzuensis can survive what is otherwise its assured destruction.
PETITION LETTER:
Dear Minister Jining,
Please pressure both your government and ministry (Ministry of Environmental Protection of the People's Republic of China) to (1) immediately halt logging and deforestation in Zhejiang province, and (2) to to study and potentially breed a more climate-resilient variety of the critically endangered Baishan fir (Abies beshanzuensis), both in order to protect this tree from its nearly assured extinction.
The Baishan fir is endemic to China's Mt. Baishan in Zhejiang, and is the most endangered coniferous trees on the planet, with only three to five individuals remaining in the wild. It is threatened by logging and climate change.
To lose this tree would be wipe a rare and unique species from the face of the Earth forever.
Again, please consider this letter and pressure your government and ministry to take immediate action to protect and restore the Baishan fir.
Thank you.
Sincerely,
[Your Name Here]
Photo credit: Lienyuan Lee