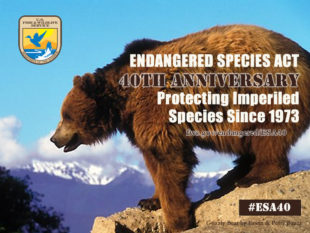 Target: Nancy Pelosi, Minority Leader of the U.S. House of Representatives
Goal: Stop Republican senators' attack on Endangered Species Act.
Senators John Barrasso and Mike Enzi of Wyoming have introduced legislation that undermines the highly important scientific aspect of the Endangered Species Act. This bill would automatically confirm any scientific information submitted by any government, no matter how incorrect or outdated the information is; this would set the Endangered Species Act back and prevent critically endangered animals from getting the protection and support they need.
The Trump administration has been attacking this act since the first day, and this is just one more nail in the planned coffin that we do not need. The Endangered Species Act is vital not only to the survival of innocent animals but to our environment as a whole, as there are many species this planet could not thrive nearly as well without. Without the correct data, which this bill dismisses as unimportant, too many animals will suffer and die.
We must protect the Endangered Species act from all attacks, especially this bill that couples it with an attack on science. Sign this petition to demand this bill be shot down before it has a chance to take off.
PETITION LETTER:
Dear Congresswoman Pelosi,
Wyoming Republicans have introduced a bill that serves as an attack on both science and the Endangered Species Act. This bill would take any information as fact without checking for accuracy, so long as it is confirmed by a government; this will do severe damage to one of our most important laws by denying endangered animals the care and protection they need.
We cannot allow this bill to take root. Science and the Endangered Species attack are too important and have been under attack since day one of Trump's presidency, and they need our protection. We cannot lose such important things to anti-environmental attacks. Please ensure that this bill is rejected before it even reaches the Senate. Do not let this attack on science and nature become the law.
Sincerely,
[Your Name Here]
Photo Credit: USFWS Mountain-Prairie