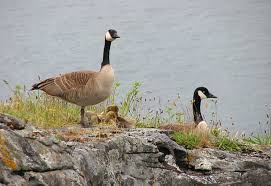 Target: Mike Calhoon, Director of Parks in Fort Collins
Goal: Protect nesting geese families by installing special nesting areas in parks.
Nesting geese face many threats from constant human disturbances — both intentional and unintentional — and a lack of safe, secluded space. With no designated nesting space, many of the geese are forced to wander into town and closer to busy roads where they face many dangers. The likelihood of interactions between humans and geese also increases the closer the geese get into town, and many of these interactions are not positive. The park service of Fort Collins, CO could simply provide designated nesting areas for geese throughout all of the city parks. Doing so would give the geese a safe place to raise their young and would also continue to allow people to enjoy their park experience without having to worry about an angry mother goose.
Geese are known to get fairly aggressive around their nests and young, which can lead to unpleasant experiences for both geese and humans. In cases where a goose has nested close to a business, it may be forced to leave once a few people have complained. The removal of the goose is a stressful situation which can potentially leave unhatched goslings without parents. The closer geese are to roadways, the more likely they are to get hit by cars or bicycles. Additionally, nesting geese and their babies may be injured or even killed in interactions with dogs. Vehicles aren't the only danger that nesting geese have to face. Dogs can be another danger to both nesting geese and their babies. Conflicts between geese and dogs often are accidental, with the dog stumbling upon a nesting goose, but accidental or on purpose, these interactions can prove deadly for the geese.
There is an alternative to this problem. City parks are already a fairly popular place for geese to congregate during migration and nesting. Fort Collins park service needs to provide sections of the park where geese can safely nest without being disturbed. This will allow the geese to continue using Fort Collins as their home without being viewed as an aggressive pest that needs to be removed.
By signing this petition you will help to urge Parks Department head Mike Calhoon to provide geese with a safe place to nest and raise their young without the negative interactions with people or threats of vehicles and bicycles.
PETITION LETTER:
Dear Director Calhoon,
Families of geese are in need of designated nesting grounds where they can raise their young in peace and safety. Every nesting season, these geese face threats from humans, dogs, and vehicles as they look for a place to raise their young.
Without somewhere to call home, these geese are forced to find nesting grounds around businesses and schools. Nesting geese can be fairly aggressive around their territory, which can lead to their being forcibly removed and potentially separated from their babies.
I am urging you to create designated nesting spaces in all the parks around Fort Collins. This would provide these beautiful birds with the space and safety they need, while allowing people to still be able to take part in watching the spring animal babies arrive. Please be a leading force in creating this change to benefit both people and our feathered friends.
Sincerely,
[Your Name Here]
Photo Credit: Gordon E Robertson