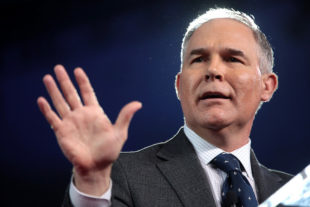 Target: Scott Pruitt, Administrator of the Environmental Protection Agency
Goal: Protect funding for Great Lakes Restoration Initiative.
The Great Lakes are one of the United States' most valuable natural resources. They provide drinking water for over 40 million people and provide about 1.5 million U.S. jobs. Now, thanks to budget cuts proposed by Trump's administration, the lakes may be in critical danger.
Trump's administration has proposed an astounding 97 percent cut to funding for the Great Lakes Restoration Initiative starting next year, shrinking its budget from about $300 million to a paltry $10 million. This initiative is crucial to protecting the the lakes from pollution, invasive species, and other serious environmental issues. Without these protections in place, the Great Lakes could once again reach dangerous levels of toxicity, leaving millions of people without usable drinking water.
This proposed budget cut is detrimental to the environment and to public health. Demand that the Environmental Protection Agency preserve this initiative by signing below.
PETITION LETTER:
Dear Administrator Pruitt,
I am appalled by the Trump administration's proposed budget cuts to the Great Lakes Restoration Initiative. Cutting the initiative's budget from $300 million to a meager $10 million would be a grievous crime, not only against the environment but against the American people.
Millions of people rely on the Great Lakes for drinking water and for jobs. Without the Restoration Initiative, the lakes will likely become so polluted that millions of Americans will be without clean drinking water and tens of thousands of people could lose their tourism-related jobs.
The environment, jobs, and public health are at stake. Now is the time for you to prove your claim that "we can be both pro-jobs and pro-environment." Now is the time for you to do your job. Protect the Great Lakes Restoration Initiative's funding.
Sincerely,
[Your Name Here]
Photo credit: Gage Skidmore