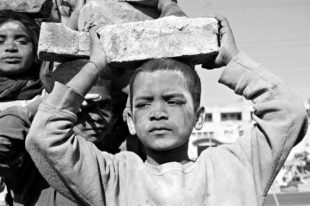 Target: Mamnoon Hussain, President of Pakistan
Goal: Ensure Pakistan fulfills commitment to end child labor.
Globalization has turned a spotlight on child labor practices in developing countries like Pakistan. In a country strictly divided by a caste-based economic system, where almost 40 percent of the population lives below the poverty line, the perfect conditions exist to both encourage and protect an economy dependent on youth employment. It is common practice for poor Pakistani children to be contracted out by their parents to a factory for 3-5 years at an almost unimaginably low pay rate. For example, UNICEF observed a brick works owner secure a 5-year labor contract from the father of a 7-year-old, with a total value of $150, payable in installments and less training expenses.
The Pakistani government has made largely weak attempts over the years to reduce the incidence of child labor. Several broad pieces of legislation were passed in the 1990s, as multinational corporations such as Nike were increasingly exposed by world media outlets for employing children in horrific working conditions. However, these efforts lacked serious federal enforcement oversight, moving responsibility for enforcement to the provinces, many of which depend on industries dominated by child labor. The federal government also stopped officially tracking the number of child workers in 1996, reinforcing a hands-off "see no evil" approach to addressing the issue.
This failure to substantively address child labor at a national level is seen in the rising number of workers between the ages of 5-14, from 11 million in 1996 to an estimated 12-15 million in 2015. The median age children begin working has also decreased from 7 to 6. Several industries in Pakistan such as carpet and brick making have become even more dependent on child labor since the 1990s government reforms.
Help send a message to the Pakistani government that their lack of meaningful action to reduce child labor is not going unnoticed. Please sign the below petition demanding that the President of Pakistan commit to aggressively enforcing child labor laws.
PETITION LETTER:
Dear President Hussain,
Over 12 million children between the ages of 5 and 14 are currently working in Pakistan, a fact you may not have been aware of as the federal government stopped gathering child labor statistics in 1996. This comes despite several reforms passed in the 1990s explicitly outlawing the use of child workers under the age of 14.
As the political leader of Pakistan you are responsible for ensuring legislation is actively enforced. I demand that you advocate for the immediate enforcement of child labor laws.
Sincerely,
[Your Name Here]
Photo Credit: ITO