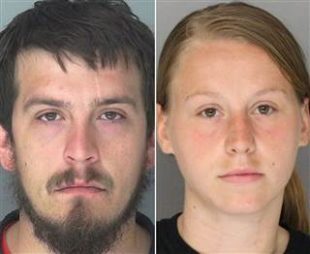 Target: Judge William McClain, Douglas County Superior Court
Goal: Praise the final two prison sentences against white people who terrorized black residents in Douglasville, Georgia.
A man and a woman were convicted of terrorism for driving around and shouting racial slurs and making death threats toward black people. In July 2015, the couple gathered with a group of 15 people who called themselves "Respect the Flag." The group boarded pickup trucks adorned with the Confederate flag and drove around the small city of Douglasville, west of Atlanta. During their two-day ride, the gang terrified black residents by shouting anti-black slurs and death threats. They harassed black drives and customers at a Walmart and a convenience store and stormed into a birthday party, pointing a shotgun. The sentence sends a powerful message at a moment of increasing hate crimes against Jews, Muslims, immigrants, and African Americans.
Jose Ismael Torres, 25, and Kayla Rae Norton, 26, helped organize "Respect the Flag" in the wake of the growing claims to remove the Confederate flag from public spaces, in response to the massacre of nine African American churchgoers by white supremacist Dylann Roof, in Charleston, South Carolina. The Southern Poverty Law Center, a nonprofit group tracking hate crimes, counted nearly 400 pro-Confederate rallies in the months following the Charleston killings. However, the gang under the banner "Respect the Flag" was not simply praising a symbol and advocating for their free speech. They engaged in apparent violent acts motivated by racial hatred. Extensive evidence confirms the group was drinking alcohol while intimidating citizens because of the color of their skin, including footage of their unwelcome entrance at an 8-year-old child's birthday party.
Judge William McClain, who handed down the sentences to Torres and Norton, made sure to highlight the racism in the group's actions, even though there is no hate crime law in Georgia. The sentence was followed by a statement issued by the Douglas County district attorney clarifying that this case was not a matter of the First Amendment but pure harassment. Therefore, we should praise the judge for showing that those who attack others because of their race or ethnicity must be held accountable under the law and pay a heavy price.
PETITION LETTER:
Dear Judge McClain,
I would like to thank you for enforcing the law and sentencing two members of the hate group "Respect the Flag" for terrorism. It is crucial that hate crimes are framed as such — our country walks through a very chilly path of bigotry and intolerance. I hope your sentencing becomes an example to other legislature and helps stop the wave of hate crimes targeting Jews, Muslims, immigrants, and African Americans we have witnessed.
Sincerely,
[Your Name Here]
Photo credit: Douglas County Sheriff's Office