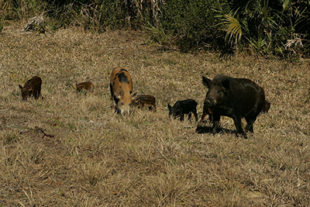 Target: Sid Miller, Texas Agricultural Commissioner
Goal: Stop the use of a dangerous poison to kill feral hogs in the state of Texas.
Sid Miller, a Texas legislator and current Agricultural Commissioner, has stated his goal is to start a "hog apocalypse" through bait stations intended to poison the state's nearly 2 million feral hogs with Warfarin, a highly dangerous blood-thinner and rodenticide. The introduction of Warfarin into the environment with few checks and little oversight could have devastating effects on wildlife and on public health.
The so-called "Kaput Feral Hog Lure" would involve state or private landowners placing the Warfarin-laced bait out into the open at bait stations, to allow the hogs to freely feed. Warfarin is odorless and tasteless, and kills slowly. The hogs would be subjected to a torturous death through internal hemorrhaging, perhaps over three or more days, during which time their innards would turn a bright blue.
Warfarin, like many poisons, bio-accumulates in the body, meaning that any animals that feed or scavenge on the meat would similarly be contaminated and could be killed as well. Miller claims that other animals aren't as "vulnerable" to Warfarin as hogs are, but evidence says otherwise. Where it is used extensively as a rodenticide, birds of prey and other predators can suffer adverse effects or be killed as a result of eating contaminated rats. Similarly, if a poisoned hog was killed by a hunter and then eaten, it is likely that humans could be harmed as well.
Feral hogs in Texas are responsible for significant damage to urban parks and crops, yet there are other, more humane means of control. Recently, the Dallas City Council voted nearly unanimously to go with a humane trap and removal method to take care of their urban hog problem, and it is likely that other communities could do the same. Warfarin had previously been used in Australia to control feral hogs in that country, but the practice was later deemed too risky and too inhumane, and was stopped. Texas should not repeat Australia's mistake and must strive to do better.
We must pressure the agricultural commissioner to listen to the voices of conservationists, hunters, and other legislators in opposing this dangerous proposal. Sign the petition below to demand that Miller stops his "hog apocalypse" and seeks more humane methods of control for feral hogs.
PETITION LETTER:
Dear Mr. Miller,
I am truly appalled at your proposal to introduce a dangerous poison like Warfarin into the environment with the intent of killing feral hogs. Warfarin is a potent blood-thinner that kills both slowly and excruciatingly. This is a cruel and inhumane method of control, with risks that could extend far beyond the intended targets. Where Warfarin is used elsewhere as a pesticide, we know that predators such as birds of prey are often sickened or killed after ingesting poisoned rats. Feral hogs are a popular target for hunters in Texas — who is to say that people could not be harmed as well if they were to consume Warfarin-tainted hog meat?
While it is true that feral hogs do cause significant amounts of damage to crops and parks across Texas, this is not an acceptable means of control. I urge you to reconsider your proposal and to seek safer and more humane alternatives.
Sincerely,
[Your Name Here]
Photo Credit: United States Fish and Wildlife Services