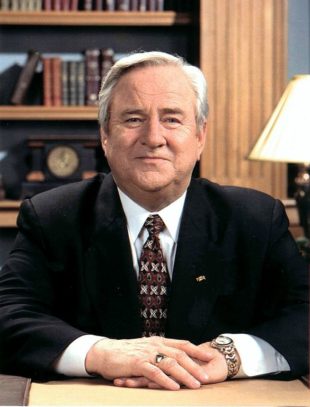 Target: Donald Trump, President of the United States
Goal: Demand Trump administration rescind Jerry Falwell Jr.'s appointment to head of education task force.
The Trump administration has appointed homophobic, misogynistic, gun-loving Jerry Falwell Jr. to head a task force that will "reform" education. By reform, of course, he means he will kill all regulations in place to keep students safe. Right now, his main goal is to stop campuses from investigating sexual assault cases, believing it is "not their place" and that it could "ruin a student's life" should they be accused of sexual assault.
We cannot let this man anywhere near our school regulations. He is an extreme right-wing Christian who uses his religious beliefs as an excuse to discriminate against anyone he pleases, and now he will normalize rape culture and sexual assault by discouraging investigation of reported cases or taking away measures that help victims seek justice. Falwell most likely cares more about sparing the futures of accused or suspected rapists than he does about the victims who report it. In addition, he wishes to destroy a law that protects students from discrimination based on gender, which only magnifies his dismissive attitude towards sexual assault.
Jerry Falwell Jr.must be blocked from having any authority over education, especially now that the completely unfit and dishonest Betsy DeVos has bought her position as Secretary of Education. Sign this petition to demand the Trump administration revoke Falwell's appointment.
PETITION LETTER:
Dear President Trump,
Your appointment of Jerry Falwell Jr. to head of the education task force goes completely against basic human rights. Falwell is an extreme right-wing bigot who uses religion as an excuse to discriminate against minority groups, and now he plans to normalize rape culture by insisting campuses do not investigate reports of sexual assault. This is not acceptable. It is hard enough for rape victims to receive justice in this day and age due to victim-blaming and the perpetrators finding ways to avoid punishment.
Rescind your appointment of Falwell right now. So far, none of your decisions have come even close to "making America great," and this one further proves it. A president is supposed to put the well-being of the American people above all else, and appointing a bigot like Falwell to a position this important is not good for anyone.
Sincerely,
[Your Name Here]
Photo Credit: Liberty University