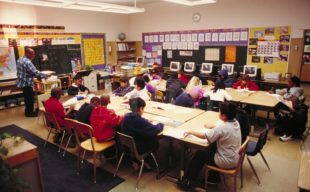 Target: Kathleen Tighe, Inspector General of the Department of Education
Goal: Encourage school systems to oppose Betsy DeVos' agenda and bigoted policies.
Betsy DeVos, despite being completely unfit for the position and failing her confirmation hearings, bought her way to victory in her bid for Secretary of Education. The rights of LGBT students are in severe jeopardy, as she has reportedly expressed interest in reversing federal protections for them. Public schools are in danger of losing funding due to her distaste for them. She believes it should be up to the state as to whether guns are allowed in school.
This person is not only completely unqualified for her position, but she did not earn it legitimately. She bought at least 20 confirmation votes through massive campaign donations, proving once again that as a member of Trump's cabinet she only cares about money.
The quality of education and school experience on the whole are at stake. We cannot leave the fate of millions of students in the hands of a dishonest, crooked bigot. We must do everything in our power to protect schools all over the country from her. Sign this petition to encourage all school systems to defy DeVos at every turn.
PETITION LETTER:
Dear Inspector General Tighe,
In addition to being completely unfit for the position of Secretary of Education as well as failing her hearings, Betsy DeVos has bought her victory from at least 20 voters. Due to her values and priorities, millions of LGBT and special needs students in addition to public schools are at risk. She wishes to reverse federal protection of LGBT students and will likely cut funding for public schools, in addition to letting individual states decide to allow guns in school.
However, we must not allow ourselves to become powerless against her. There are still many things we can do to undermine and oppose her agenda: fundraisers, hiring competent teachers who also care for the well-being of the students, enforcing stronger anti-bullying laws, and donating to schools in poorer cities that need funding for materials.
Betsy DeVos did not deserve to be awarded a position of power, and we must make sure she knows she does not frighten us. Encourage all schools nationwide to defy her agenda at every turn.
Sincerely,
[Your Name Here]
Photo Credit: Foxy1219