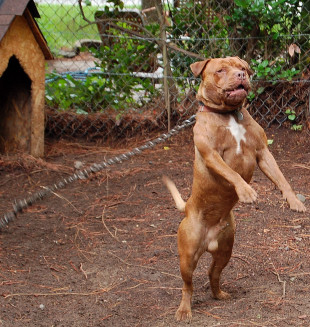 Target: Marilyn Mosby, State Attorney for Baltimore, Maryland
Goal: Demand the maximum punishment for man allegedly found with trained fighting dogs and other dog fighting paraphernalia.
A man has been arrested after police reportedly removed two dogs and dog fighting paraphernalia from his home. Police say they found two pit bulls, a treadmill, and other items related to dog fighting in the home of Vernon Richards, a 58-year-old Baltimore man. Illegal firearms were also found in the home, according to reports. He has been charged with animal cruelty and firearms charges.
The Animal Abuse Unit of the Baltimore Police Department found the dogs after following a tip about a dog fighting operation in the area. In a vacant home on the same block, they found evidence that fights were taking place inside.
Dog fighting is a cruel blood sport in which two animals are pitted against each other, usually until one dies. If a losing dog ends up surviving, it is often euthanized by its owner due to the extreme injuries that can occur.
Training for these fights can be grueling. Dogs can be forced to carry weighted chains to strengthen their upper bodies, and run for long periods of time to increase their stamina. Animals can be beaten or starved to increase their aggressiveness, and they can also be fed live bait such as rabbits to increase their prey drive.
Dog fights have been linked to gang activity and organized crime. Crime syndicates can make immense profit breeding, selling, and training fighting dogs, while trained dogs are sometimes used as a weapon against rivals.
In order to stop this type of barbaric cruelty, it's important that authorities take dog fighting seriously. Sign the petition below to demand that anyone involved in this alleged dog fighting ring be punished to the fullest extent of the law.
PETITION LETTER:
Dear Mrs. Mosby,
Vernon Richards of Baltimore is facing animal cruelty and firearms charges after police reportedly found two it bulls and dog fighting paraphernalia on his property. While responding to a tip of dog fighting taking place on Richards' block, police also found a vacant home where they suspect the fights were taking place.
Dog fighting is cruel and has also been linked to organized crime. In order to deter offenders in the future, it is imperative that these types of crimes are taken seriously. We, the undersigned, ask that you seek the maximum possible punishment in this case.
Sincerely,
[Your Name Here]
Photo Credit: Lee D. Baker