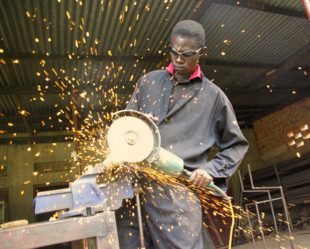 Target: Tina Gregerson, President and CEO of Personnel Staffing Group, LLC
Goal: Quit passing up African Americans for day labor jobs at temp agency.
Five African American men have filed a lawsuit alleging that a staffing agency used code words in order for clients to communicate racial preferences for the workers they wanted to hire. Many black job seekers have claimed that they would show up very early in the morning to the MVP Staffing office in Chicago for a chance at work, only to be passed up for Hispanic laborers time and again. Those who did get work were often put on a "Do Not Return" list after the first day by companies like Blommer Chocolate Co, which has caused many to give up seeking work all together. It is believed that this racism stems from stereotypes of African Americans being lazy and Hispanics being less likely to complain about injuries and overtime pay, due to language barriers.
Mostly dealing with factories and other low-skill jobs, MVP Staffing, more widely known as Personnel Staffing Group, has yet to comment on the lawsuit. Though 70 percent of the population around this agency is African American, Latinos attain 98 percent of job placements. Hiring discrimination is believed to cause increases in crime, and it is a violation of federal civil rights law as well as basic human rights. It is likely that this staffing model is practiced across many other agencies as well. Sign this petition to demand that MVP Staffing take measures to prevent racial discrimination when sending laborers out on jobs.
PETITION LETTER:
Dear Ms. Gregerson,
Recent allegations that your company is participating in hiring discrimination is incredibly disappointing. Claims that your Chicago location used code words to communicate the races of job seekers has caused five men to file a lawsuit, exposing this heinous activity. African Americans already face many difficulties when it comes to finding employment, and is seems that MVP Staffing has contributed to keeping them out of work.
Using terms like "guapos," which implies a person does not do hard work, for African Americans and "bilingues" for Spanish-speaking laborers is racist and violates federal civil rights law. We demand that you take measures to prevent this sort of activity from occurring in any of your offices and fight to end hiring discrimination.
Sincerely,
[Your Name Here]
Photo Credit: Odwarific