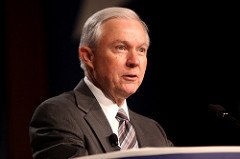 Target: President-Elect Donald Trump
Goal: Block Jeff Sessions's nomination as United States Attorney General.
President-elect Donald Trump has chosen known anti-woman racist Jeff Sessions as his pick for attorney general. Sessions is anti-choice to the point where he encourages violence against abortion clinics by opposing laws to protect them, and defended Trump's assertion that grabbing a woman's genitals is not sexual assault despite evidence to the contrary. Sessions will single-handedly destroy every last bit of reproductive freedom women have fought so hard to obtain over the last 10 years. Worse, he has a long history of racism to the point where his behavior blocked him from becoming a federal judge.
We cannot allow this misogynistic, anti-choice racist to be put in charge of our country's law enforcement. If chosen, he will continue the witch hunt against Planned Parenthood by using the Justice Department to encourage attacks. He will ensure that no woman anywhere in the United States has any rights to choose when it comes to her body. Sign this petition now to block this man from even having a chance to become our country's attorney general.
PETITION LETTER:
Dear Mr. Trump,
Your choice for the next attorney general could not be worse. This man is anti-woman, anti-choice, and a complete racist. His racism has gained him a bad reputation among the courts, and he shows no signs of changing his ways. This is not a man who fits your campaign to "make America great again." If you truly wish to become our leader, you need to make choices that are fair to everyone, not just rich white men. A president is supposed to choose leaders to make the country better.
Please reconsider your choice for attorney general. This man does not have America's best interests at heart and will only use his status if elected to encourage violence and hate crimes, and worse, make them legal. That is not going to "make America great again."
Sincerely,
[Your Name Here]
Photo Credit: Gage Skidmore