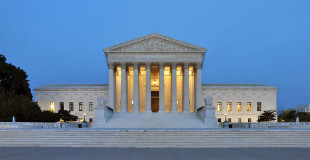 Target: Barack Obama, President of the United States
Goal: Appoint Merrick Garland to the Supreme Court during a Senate recess.
It has been months since President Obama nominated Merrick Garland to the Supreme Court, following the death of Justice Scalia. His nomination has remained unconfirmed by the Senate, the longest wait on any Supreme Court nomination that we've seen in U.S. history. Because Justice Scalia was one of the most conservative members of the court, the Republican-dominated Senate was resistant to letting his seat be filled by a liberal president – they therefore delayed voting on a nominee, waiting for a new president to take office and hoping that that president would be a Republican. This unprecedented inaction has left us with an incomplete Supreme Court for the past eight months, and more importantly, left us now at risk of Donald Trump choosing a Supreme Court justice who will favor overturning Roe V. Wade and undoing environmental and other regulations. However, President Obama does have a trump card left in his hand, should he choose to play it. He can appoint Garland to the Supreme Court during a Senate recess.
Our Constitution states, in Article II, Section 2, that "The President shall have Power to fill up all Vacancies that may happen during the Recess of the Senate." In fact, Theodore Roosevelt once took advantage of a brief intersession recess – less than one day – to make hundreds of appointments, a fact which has dubbed this phenomenon "the Roosevelt Precedent." The catch is that appointments made by the president in this manner must expire at the end of the next Senate Session. So if President Obama does appoint Merrick Garland, his appointment to the Supreme Court would last only until December of 2017.
There is no justification for the Senate's refusal to perform its constitutional duty. It is a classic example of partisan gridlock that does nothing but prevent our government from actually getting things done. If President Obama did use his constitutional power to appoint Merrick Garland to the bench on January 3rd, it would likely be contested. It would be viewed as just another divisive attack in our politically divided, up-in-arms country. But, presuming it would hold from a legal standpoint, we could have one year of a moderate Supreme Court Justice, who favors environmental protection and government transparency. Sign the petition to tell President Obama to play his trump card – he should make his Supreme Court appointment before leaving office.
PETITION LETTER:
Dear Mr. President,
I am writing to urge you to take action in the face of the Senate's inaction. The refusal to consider your Supreme Court nominee, Merrick Garland, is unprecedented, unconstitutional, and needless to say, unproductive. That is why I believe you should use the Roosevelt Precedent and appoint Garland during the recess between sessions.
It is your constitutional power to fill vacancies while the Senate is in recess, and seeing as how the Senate has failed to carry out its constitutional duty of providing advice and consent on your nomination, it would not be inappropriate for you to take this step and act without the Senate's approval. I understand it may be viewed unfavorably by some, but others will understand it as necessary to delaying the potential harm that could be done by a Supreme Court influenced by the appointee or appointees of your successor. I urge you to take a leaf out of President Roosevelt's book and appoint Merrick Garland.
Sincerely,
[Your Name Here]
Photo credit: Joe Ravi