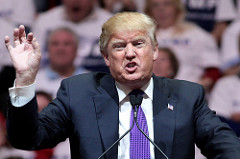 Target: President-elect Donald Trump
Goal: Keep white supremacist Steve Bannon out of the White House.
President-elect Donald Trump has appointed a racist, misogynistic, extreme right-wing crusader as his chief strategist. This man has helped to publish the most disgustingly hateful articles regarding women and minorities, and he will no doubt make America a dangerous place to live if he is allowed anywhere near the White House. He believes, unironically, that women belong beneath men and that white evangelicals are superior to all other people.
We cannot allow this man in the White House. If we are to survive four years of a Donald Trump presidency, we must do everything we can to remove Bannon from his future position of power. A man like him does not deserve any say in our current politics, not after we have fought so long and so hard for equality and acceptance, and we still have a long way to go. A man like Bannon will force this country back into the dark ages, make it completely unsafe for anyone who is not a white, straight, Christian male.
Steve Bannon is the worst possible choice for chief strategist, and Donald Trump must be made to realize this. Sign this petition to demand this racist misogynist be removed from his position as soon as possible.
PETITION LETTER:
Dear Mr. Trump,
Your choice of chief strategist is not what America needs. Steve Bannon is a hateful, racist misogynist who helps to publish disturbingly hateful content. When you ran for office, your slogan was "Make America Great Again," but appointing someone so despicable is doing the exact opposite. This man will undoubtedly make America a terrifying place to live. People, especially women and minorities, do not deserve this.
If you truly wish to "make America great again" and be an effective president, you must remove Steve Bannon from the White House. You will be given a chance to prove you can run this country despite your inexperience, but you will ruin this chance if you keep this man on board. Replace Steve Bannon with someone who will be fair, impartial and intelligent.
Sincerely,
[Your Name Here]
Photo Credit: Gage Skidmore