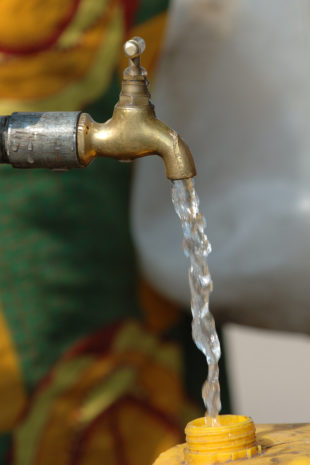 Target: Philippe Couillard, Premier of Quebec
Goal: Grant funds to small town so it can fix toxic water supply.
For four years, residents of a small town in Quebec have been without clean water after benzene was found to be present. A reserve meant to help towns with their water supply systems, known as FEPTEU, ran out of money before the town had time to submit its proposal, so it was denied the funds. The mayor, who only asked for $1.4 million of the reported $664 million that were in the reserve, claims he will address officials soon to demand that they intervene.
When a gas station closed down in Val-Joli and a petroleum pollutant known to be both flammable and a human carcinogen was found in the water, many people started using bottled instead. It is estimated that at least 20 houses are effected in this town of only 1,500 poeople, and residents fear their property values have plummeted. Even worse, those dealing with toxic water have to find ways around using it, such as taking short showers, and they believe it is only a matter of time before they will develop cancer due to the exposure.
Mayor Rolland Camiré believes a simple fix would be to reroute the affected homes' water supplies to that of nearby Windsor, a costly project for just one small town to afford. The town just wanted the FEPTEU to fund 85 to 95 percent of the project, but was denied because larger cities like Montreal and Quebec City — who already had projects underway — were better able to take advantage of the first-come, first-served rule, and they dried up the pool with their proposals first.
It is apparent that Val-Joli needs these funds more than the larger cities, because it cannot even start a project without them. Sign this petition to demand that money be allocated to help bring clean water to the people of this small town.
PETITION LETTER:
Dear Premier Couillard,
A small town in Quebec desperately needs the help of its government to fund a water treatment system project. For four years, residents of Val-Joli have been exposed to water known to contain benzene, a dangerous and toxic chemical that comes from oil. Many people fear they will one day develop cancer due to this exposure.
Clean water is a basic human right, and it is the government's duty to make sure those rights are not violated. For too long, people in Val-Joli have had to be careful about the water coming out of their faucets and report taking short showers and buying bottled water, much of which will probably end up in landfills. I urge you to immediately allocate funds so that all residents of Quebec can have access to clean and reliable drinking water.
Sincerely,
[Your Name Here]
Photo Credit: Julien Harnels