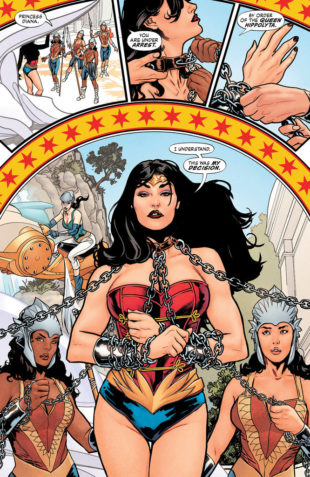 Target: Ban Ki-moon, UN Secretary General
Goal: Remove Wonder Woman from position as Honorary Ambassador for the Empowerment of Women and Girls.
The United Nations (UN) has made Wonder Woman its Honorary Ambassador for the Empowerment of Women and Girls despite many staff members speaking out against the decision. Though she embodies power, portrayals of this female superhero are typically racy and resemble "pin up" girls. The character's image will be used for a year-long campaign on gender equality, but many feel Wonder Woman does not represent their idea of feminism. Ban Ki-moon is responsible for appointing the character, but now hundreds of staff members are asking him to reconsider.
Wonder Woman was one of the first female superheroes created by DC comics. The intention was to represent women as strong, independent warriors and focus on a feminist message, but it is not hard to see how they missed the mark. While she whips her lasso like a pro, shoe does so in hardly any clothing. Her bustier and bikini-type bottoms combined with her impossible proportions give a false impression of what real women look like. She may have been progressive enough in the 1940s, but today we need a role model for women and girls that says you don't have to look like a model to be super.
Portraying women as objects is dangerous and leads to abuse and sexual harassment. Additionally, it causes a lot of psychological issues for women who cannot meet Wonder Woman's physical standards. If the UN seriously wants to empower women, it needs to find a character who better represents them in the modern world. Sign this petition to ask the UN Secretary General to reconsider Wonder Woman as an Honorary Ambassador.
PETITION LETTER:
Dear Secretary Ban,
Many UN staff are enraged by your decision to name Wonder Woman an Honorary Ambassador for the Empowerment of Women and Girls. While this character is indeed a superhero, she does not represent the billions of females across the globe who are repressed. Her strong and independent demeanor are negated by the fact that she fights crime in what is basically a swimsuit while almost all the male heroes are covered head to toe. Wonder Woman is the epitome of objectification and should no longer be considered a feminist symbol.
Despite wide protest from UN staff, you worked with DC Entertainment to get the rights to use this character anyway. Everyone knows about the movie releasing soon, which makes this look like one big publicity stunt. I urge you to be a true feminist and take a stand for women who are misrepresented by this sexist character by removing her from the honorary role you assigned.
Sincerely,
[Your Name Here]
Photo Credit: Yanick Paquette