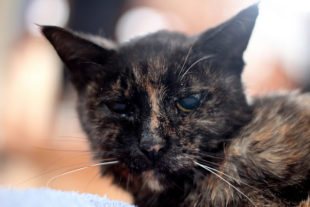 Target: Brooks Baker, Stueben County District Attorney
Goal: Seek a permanent ban on owning animals for owner who allegedly neglected cats for so long that they had to be euthanized.
Nineteen sick and injured cats were living in such deplorable conditions that nearly all of them had to be euthanized, according to deputies. The sheriff's office said that the decision to euthanize was due to the "severity of their diminished physical conditions." Some of the cats were suffering from ruptured eye wounds, open wounds and ulcers all over their bodies, and severe dental disease. The cats were underweight, dehydrated, suffering from upper respiratory infections and multiple parasitic infestations.
Other injuries reported by the sheriff's office included self-mutilation wounds most likely from scratching, intestinal parasites, flea infestations, anemia due to the duration of flea infestations, ear mites, and no history of de-worming.
These cats had to have suffered an unimaginable amount of pain, apparently because the owner couldn't be bothered to treat them right. All of their injuries could've easily been treated. These innocent animals deserve justice and other animals deserve protection from people like this. Sign this petition to demand that this woman be permanently banned from owning animals in the future.
PETITION LETTER:
Dear Mr. Baker,
Almost 20 cats were found suffering in conditions so deplorable that most of them had to be euthanized. The sheriff's office reported dozens of injuries that these poor cats were suffering from, including ruptured eye wounds, severe infections. They also showed signs of starvation and dehydration.
There's no excuse for animals to be forced to suffer in such deadly conditions. These innocent animals deserve justice and protection from apparently neglectful people like this owner. We urge you to make sure the owner is permanently banned from ever owning animals in the future if found guilty.
Sincerely,
[Your Name Here]
Photo Credit: Sarah Rose