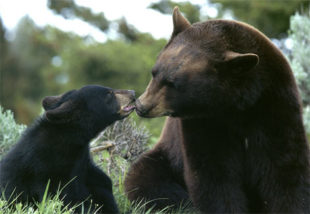 Target: Chris Christie, Governor of New Jersey
Goal: End the cruel and unrestricted hunting of black bears with arrows.
At least 281 black bears have already been slaughtered in New Jersey's new expanded bear hunt. This hunt allows for shooters to kill female bears with cubs. The orphaned cubs are then left to fend for themselves. With the threat of starvation and the abundance of predators in the area, there is little chance that the baby bears will survive.
This special hunt is only open to archers. Hunting with arrows is an inefficient way of killing bears. It often leads to bears suffering longer before dying, or to bears escaping after they are wounded and suffering for days or even weeks before death. This barbaric hunt should have never been allowed, and it should be discontinued in the future.
This bear harvest is designed to control the black bear population in the area and limit human and bear encounters. It is very rare for a black bear to attack humans. Black bears are known to be shy creatures that only attack when they feel threatened. They also can help control populations of animals that they prey on. During the fall the bears are more active while they forage for food, which makes them easy targets for hunters.
This hunt is for a limited time in October, but it is not too late to demand that it is not continued in following years. Sign this petition to let the governor know that this brutal sport is not an acceptable way of controlling the black bear population.
PETITION LETTER:
Dear Governor Christie,
The new black bear archery hunt must end now. It should be permanently abolished as a way of curbing the black bear population in New Jersey. Almost 300 black bears have been killed by archers in the first few days of the hunt. You have the power to protect these timid creatures from a terrible sport.
Hunters are allowed to kill not only adult males, but they are also encouraged to kill adult females with cubs. The orphaned cubs are then likely to die due to starvation or predation. Baby bears should not be left to suffer such a cruel fate. Hunting with arrows increases the likelihood of a slow and painful death for the bears. Archery is often less effective at killing the bears before they can escape hunters. This means that if the hunter is unsuccessful in tracking the bear, it could take days or even weeks for the bear to die. Black bears rarely attack people, and are known to be shy creatures.
Let your constituents know that you care about protecting wild animals from gruesome practices. Please end this cruel slaughter of black bears for sport.
Sincerely,
[Your Name Here]
Photo Credit: beingmyself