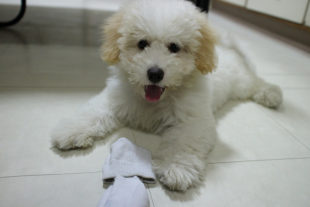 Target: Robert Bernardi, Burlington county Prosecutor
Goal: Seek the maximum penalty possible for man who allegedly murdered a puppy with his bare hands.
A 7-month-old Maltese-poodle mix was reportedly murdered by an 18-year-old who broke the poor animal's neck with his bare hands. According to police, the suspect, Quentin Segars, had an argument with a relative who'd adopted the puppy weeks earlier. In a fit of rage and apparently seeking revenge, Segars allegedly jerked the puppy up and swung it by the neck until it broke.
Police were called to the home where they found the puppy's lifeless body, which was sent to a lab to confirm the cause of death. Quentin Segars was charged with inflicting unnecessary cruelty and causing the death of a living creature.
Breaking a puppy's neck and killing it for no reason is an alarming sign of a person with dangerous and violent tendencies. This is an 18-year-old man, not a child who doesn't know any better than to hurt animals. If he is proven guilty and doesn't face serious consequences for his behavior, it can be expected that he will only continue taking his anger out on the innocent. Please sign the petition to demand justice for this puppy and a severe penalty for the alleged killer.
PETITION LETTER:
Dear Mr. Bernardi,
A puppy was reportedly killed by a teenager who had an argument with the dog's owner, a relative of his. According to police, the 18-year-old snatched the puppy by the neck and swung it until the animal's fragile neck broke.
Only a cruel, violent person kills an innocent animal just to exact revenge upon the owner. We urge you to make sure that this man is punished harshly if proven guilty, so that no other innocent lives are taken in such a senseless manner.
Sincerely,
[Your Name Here]
Photo Credit: Frances Ellen