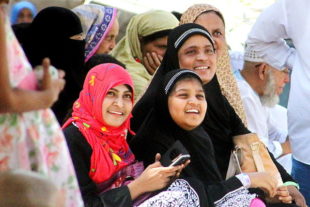 Target: Anwar Zaheer Jamamli, Chief Justice of Pakistan
Goal: Harshly punish a man who allegedly killed his sister for marrying outside their religion.
When Tasleem Rahju fell in love with and married a Christian man, her brother Mubeen allegedly killed her due to his own humiliation. His co-workers needled him for not putting a stop to the relationship sooner; even Rahju's husband converting to Islam did not appease the family. Mubeen reportedly shot his sister in the head to preserve his family's reputation and to end his humiliation; his confession was reported in the news some days later. He is currently held at the police station before his trial begins.
This is beyond unacceptable. Honor related abuse and killings of women have been going on for far too long. Religions and countries that value the reputations of men over the lives and comfort of women are far too common even in this day and age, and while people should be free to practice whatever religion they please, it should not involve sacrificing innocent lives to preserve their honor.
This woman did not deserve to die for exercising her freedom of choice. Her husband converting religions for her sake should have been enough to appease her family, and her brother deserves a harsh and severe punishment for his crime. Sign this petition to demand he face justice.
PETITION LETTER:
Dear Justice Jamamli,
Mubeen Rahju was recently arrested for the alleged murder of his sister, an "honor killing" due to her marrying a man of her own choosing despite that man converting to Islam. Currently, he is on trial for his crimes, but we fear he may get off with a slap on the wrist due to honor killings still being encouraged or ignored in many parts of the world.
Please punish this man as severely as possible for what he did. His sister did not deserve to lose her life for making her own choices. Her brother killed her solely due to his co-workers harassing him for not being "man enough" to stop her; he ended the life of another human being for the sake of his own reputation. This is not okay. Do not let him walk away from this with just a slap on the wrist.
Sincerely,
[Your Name Here]
Photo Credit: Mohammed Tawsif Salam