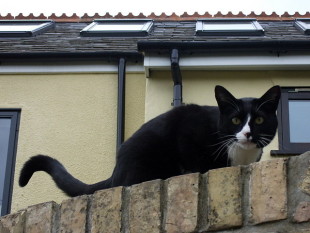 Target: Brigadier Sheikh/Sultan Bin Abdullah Al Nuaimi, Commander in Chief of Ajman Police
 Goal: Prosecute teenager allegedly filmed throwing a cat against a wall.
An Emirati teenager was caught on camera throwing a cat against a wall which resulted in the animal's death. The family of the teen who is believed to be shown in the video is demanding prosecution of the person they think posted the video, but the real investigation needs to be into the boy who allegedly killed the cat.
The suspect's mother has spoken out, expressing her son's severe hatred toward cats. She said he has told her that when he sees one he wants to hit it. She blames it on a cat the family had when the teenager was younger who her son thought was possessed.
It is possible that the cat was not living in humane conditions and was therefore acting out. Additionally, children abusing animals could be a sign of a greater problem at home. This sort of abuse cannot go unpunished and a full investigation needs to be launched.
Animal abuse cases are punishable by law in Ajman, where this crime took place, via fining the perpetrator Dh20,000 (over $5,000) or placing him in prison for up to a year. Animal welfare workers are trying to promote the importance of investigating these crimes, but it is up to law enforcement to see that justice is served. Demand that police fully investigate and prosecute the teenager who hates cats so much that he may have brutally murdered one.
PETITION LETTER:
Dear Sultan Bin Abdullah Al Nuaimi,
Disturbing footage of a teenager throwing a cat against a wall in Ajman has angered your community and animal rights activists. This level of violence must be investigated and prosecuted to show others that they cannot get away with it. Animal abuse by minors is a huge problem and must be addressed as it could signify abuse at home. Your laws allow you to put the perpetrator behind bars for a year or fine him Dh20,000, and we hope you will seek the maximum penalty.
The suspect's parents are calling for prosecution of the person they think is responsible for posting the video, but that person was just exposing a crime and should not be punished. We ask that you take a stand and show animal abusers in your city that they will not get away with their crimes. Prosecute the teenage boy accused of murdering the cat.
Sincerely,
[Your Name Here]
Photo credit: Ceridwen