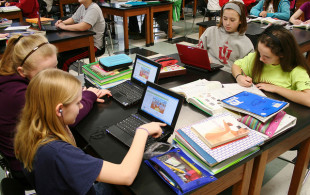 Target: John Fallon, CEO of Pearson Education
Goal: Eliminate pricey textbook access codes that force students to pay hundreds of dollars just to do coursework.
Colleges are charging college students across the country hundreds of dollars to do homework and complete quizzes and tests via textbook access codes. Education corporations like Pearson and McGraw Hill, which have published textbooks that appear in nearly every student's classroom, are venturing into the digital age by creating and selling e-textbooks that come with one-time-use access codes. The codes provide access to coursework created by the education giants. Many professors and educators have turned to these packages.
However, these access codes, popular in math, science, and language classes, are forcing students to pay hundreds of dollars in order to complete the online coursework. These access codes are a financial burden on students already struggling to pay tuition, room and board, and textbook costs. Unlike traditional textbooks, these access codes cannot be shared with other students. They cannot be sold back at a fraction of their price. Some of the access codes expire when the course is completed. In addition, if a professor chooses to use the coursework available through the access code, students have no other option than to buy the digital access.
This further enlarges the monopoly education giants like Pearson and McGraw Hill have over struggling college students. The prices of access codes should be considerably lowered, especially considering that it lacks the material costs of production of a physical textbook. Demand that Pearson, perhaps the largest creator of access codes for higher education, take steps to make these codes more affordable to college students.
PETITION LETTER:
Dear Mr. Fallon,
Pearson has become a widely-recognized name in the world of higher education. Your company's textbooks can be found on the reading lists of millions of college students across the country. However, with your recent foray into the digital world, access codes and digital textbooks are replacing physical textbooks.
Like a physical textbook, the digital options are costing students hundreds of dollars. However, unlike their physical counterparts, these access codes cannot be resold or shared. They expire after a certain amount of time and, if a professor uses the course material on the access code, students have no choice but to purchase this digital option so that they can complete homework and pass quizzes and tests.
These access codes place a financial burden on many students already struggling to afford the rising price of a college education. I urge you to seek ways that would alleviate the stress students are feeling by offering these access codes at lower prices. Students go to college to gain a higher education. However, it may be hard for students to focus in the classroom while they constantly worry about the cost of acquiring this education.
Sincerely,
[Your Name Here]
Photo credit: Jeff Peterson