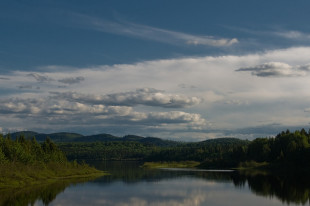 Target: President Barack Obama
Goal: Applaud the designation of Maine's North Woods as a national monument, the largest along the East Coast.
President Obama designated Maine's North Woods as a national monument in honor of the National Park Service's centennial using executive action. Such an action will make North Woods the largest national monument on the East Coast and will protect 87,500 acres of forestland and riverbed that are home to bears, lynx, and rare species of American birds.
The land was donated to the federal government by Roxanne Quimby, co-founder of Burt's Bees. Until now, the Quimby family maintained the land and even built facilities for visitors on the property. The gift of the land is worth about $100 million, a generous amount for a struggling park system. With miles of hiking trails and camping areas, the park will be open to snowmobiling, fishing, and hunting (though no hunting of bears will be allowed).
The president's action has not been without controversy. Politicians and some residents of Main view his action as overreach and believe that establishing a national park will be detrimental to the logging industries in surrounding towns. However, thousands of tourists are expected to visit the national monument and that may have a more positive effect on the economy than the environmentally damaging practice of logging.
With the establishment of North Woods as a national monument, President Obama has declared nearly two dozen national monuments under the park system while in office. Thank the President for taking action to protect our nation's unique environment and rare species for the enjoyment and wonderment of all citizens and future generations.
PETITION LETTER:
Dear President Obama,
Thank you for designating Maine's North Woods as a national monument within the National Park Service. Your action has protected 87,500 acres of land from development and has prevented the endangerment and extinction of countless rare, natural species.
Our nation's National Parks Service is something that is distinctly American. It protects and preserves the best our nation has to offer in terms of history and the environment. In this year, as our National Park Service celebrates its centennial, I want to thank you for taking steps to ensure that not only North Woods, but nearly two dozen other natural sites, will now be preserved for the enjoyment of all American citizens and for future generations.
Sincerely,
[Your Name Here]
Photo credit: U.S. Fish and Wildlife Services