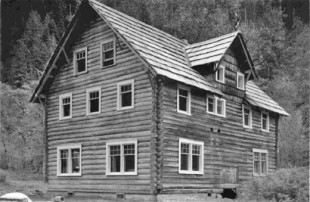 Target: Superintendent Sarah Creachbaum
Goal: Relocate historic Enchanted Valley Chalet to save it from falling into the river.
The Enchanted Valley Chalet has stood on the East Fork Quinault River floodplain in Washington state's Olympic Wilderness for over 75 years. Built in 1931, the Enchanted Valley Chalet is a significant example of rustic architecture in the Western United States and the best surviving example of recreational development within the national park. As such it was designated a National Historic Site as a place of local significance in 2007.
Due to catastrophic channel shifting, however, the chalet is under threat of falling into the river. In 2014, the building was moved 100 feet away from the riverbank. Now the river has moved within 18 inches of the property. The National Parks Service (NPS) is currently fielding comments on what should be done about it. A few options are outlined by the NPS, including partially or fully dismantling, or moving the structure. This building retains much historical significance to the local communities and should be saved. We propose that they should keep the structure intact and move it away from the floodplain so that it does not disturb the local environment, but continues to stand.
PETITION LETTER
Dear Superintendent Creachbaum,
The Enchanted Valley Chalet has a rich and storied history, including being used as an Aircraft Warning Service station during WWII. Though closed as an accommodation for over 30 years, the structure should be relocated as it holds historical significance to the local communities of Quinault and Grays Harbor. It also remains a shining example of early 20th century recreational development in the Western United States.
Please, save the Enchanted Valley Chalet so that tourists and locals alike can enjoy this historic structure for many more years.
Sincerely,
[Your name here]
Photo Credit: National Parks Service