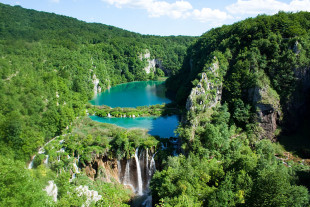 Target: Dr. Slaven Dobrović, Croatia's Minister of Environmental and Nature Protection
Goal: Save Croatia's Plitvice Lakes National Park from losing its UNESCO World Heritage status.
Croatia's Plitvice Lakes National Park, known for its gorgeous lakes, waterfalls, and caves, is in danger of losing its UNESCO World Heritage status due to construction and overcrowding that is threatening the site's unique landscape and rare wildlife. The park is the oldest national park in the nation, as well as the most visited. There were over one million visitors to the park in 2015.
However, new construction that is meant to cater to the growing number of tourists is threatening the site. In 2014 alone, 40 tourism facilities were built in the park. The biggest threat to the park, according to UNESCO, is the impact of tourism. On any given day, roughly 15,000 tourists from around the world visit the site. In addition to the tourist facilities being built, visitors are negatively impacting the environment, from littering to venturing off designated trails to capture picture-perfect selfies in front of the park's famous falls. In some cases, tourists have even died after falling from trails and cliffs, leading to negative attention and safety concerns plaguing the park that is already in danger.
Blame for the dangers facing the park is being placed on the nation's new government for failing to regulate construction and manage visitors. UNESCO is urging the government to put a hold on construction permits in hopes of alleviating the damage facing the national park, but much more must be done. Sign the petition to urge the nation's Ministry of Environmental and Nature Protection to take steps to protect one of Croatia's most famous natural landmarks so that it can preserve its UNESCO World Heritage status.
PETITION LETTER:
Dear Dr. Dobrović,
Croatia's Plitvice Lakes National Park is not only the nation's oldest national park, but also its most famous. Over a million tourists a year visit the park so that they can behold its sparkling waters, grand caves, and immense waterfalls. However, with this popularity comes disastrous environmental effects that are threatening the park's status as a UNESCO World Heritage Site. World Heritage Sites are meant to be preserved for people of all nations for future generations. If Plitvice Lakes loses this status, people may no longer be able to admire the site's natural and geological wonders.
Growing and unregulated tourism has not only increased construction within the park to meet the needs of visitors, it has also led to the destruction of rare plants and wildlife as more visitors stray from designated paths. I urge you, as Minister of Croatia's Environmental and Nature Protection, to take action to better regulate and protect the park by halting construction, managing visitors, and taking other steps to ensure the park's continued status as a UNESCO World Heritage Site.
Sincerely,
[Your Name Here]
Photo Credit: Pablo BM